Last week, Delta Air Lines turns 92 and is the oldest operating airline in the United States (and the sixth in the world). In 2013, Delta Air Lines was the world's largest airline in terms of scheduled passengers carried, and it continues to dominate the air travel market in the US. To celebrate the company's birthday, Field Grey style, we take a look back at nearly a century of uniforms.
History and Branding
One of the five remaining legacy carriers, Delta Air Lines has a rich and turbulent history. It was founded on 30 May 1924 as a crop-dusting operation. The company moved to Monroe, Louisiana, and was later renamed Delta Air Services, in reference to the nearby Mississippi Delta region, and commenced passenger services on June 17, 1929.
In 1941, the company moved to its current base in Atlanta, Georgia and continued to grow with the addition of many routes. Its signature colours of red and blue have been a foundation of the brand since then, used in all manner of branding tools, from advertising to, of course, uniforms.
1940s
Delta's first uniforms were much like other commercial airlines of the era, before the admiration and esteem of cabin crew began to take effect. Simple beige jackets were worn with black pencil shirts and pillbox hats.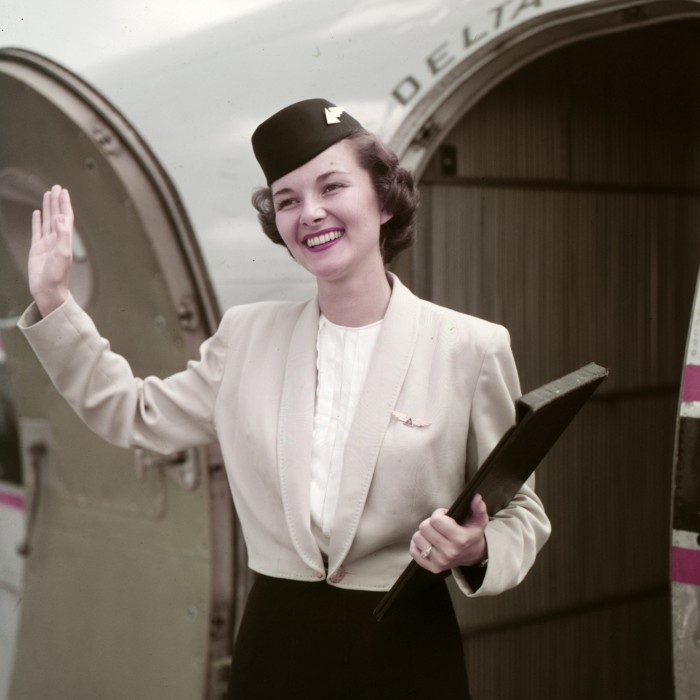 1950s
In 1954, a light blue uniform was introduced to align with the brand's signature colours. The design followed the styles of the time – in particular Dior's New Look – with a flattering fitted jacket featuring large buttons and ruched sleeves. The pillbox hat was updated to a more contemporary, curved design.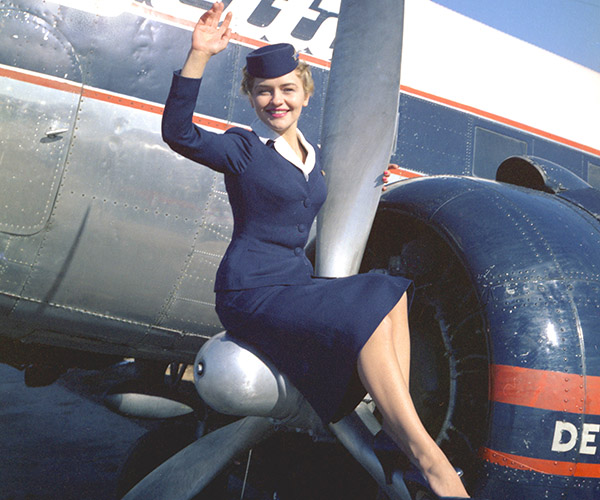 1960s
The sixties were the halcyon days for airlines dressing – think the iconic Braniff Babes – and Delta were no exception. Dressing their stewardesses in both red and blue, Delta capitalised on the glamour of flying during the decade. Also note the extravagant belts, featuring resin geometric shapes on a lavish gold chain!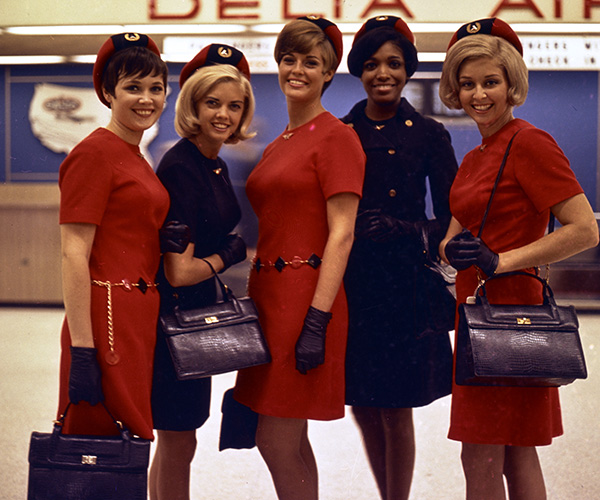 1970s
Uniforms in the seventies continued to align with trends of the time. Silhouettes became flared; buttons were enlarged; hats and belts became statement accessories. Hats were no longer required, but cloche designs were available for stylish staff. Pleated skirts became the norm and patent leather pumps were produced for durability. For the first time, trousers were available for female staff. Mondrian-esque scarves, designed by Sharon Harris, added even more elegance.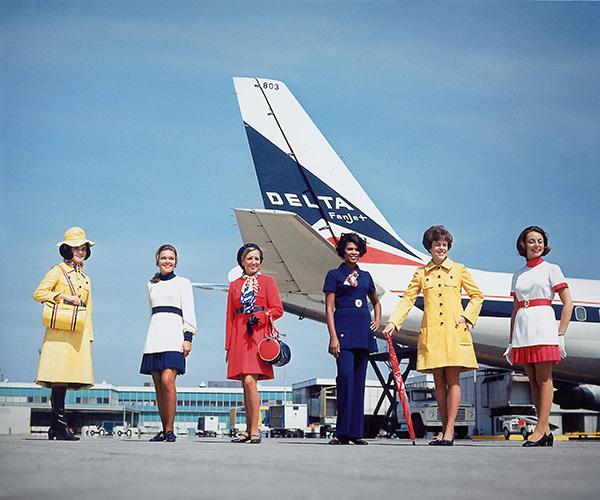 1980s
When it comes to airline style, the 1980s aren't fondly remembered. Most airlines launched ill-advised corporate, styleless uniforms in a effort to capture the executive ethos of the decade. Delta where no exception, with bland navy blue tailoring and muted accessories. This was the company's most enduring uniform, though, with some pieces in use from 1983-2001.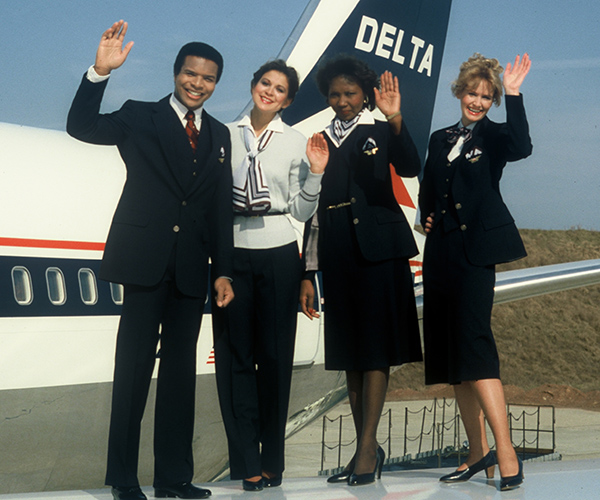 1990s
The nineties brought a welcome burst of colour to the 80s offering, with a combination of red and blue jackets for both men and women. Gold embroidered patches were introduced on some blazers.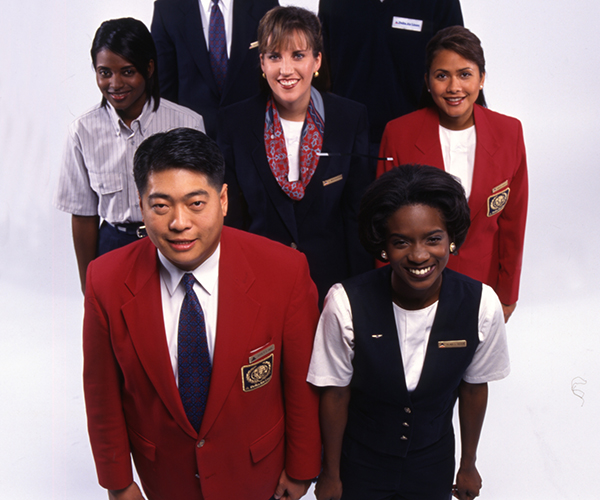 2000s
With the advent of sister companies, a low cost brand and other services, styles of uniforms were abundant. We particularly like this red wrap dress with cinched waist, worn by cabin crew until 2016. Richard Taylor designed a full range of uniforms that were in use until the launch of the incumbent uniform last year. Highlights included the futuristic wrap dress, worn by cabin crew (below).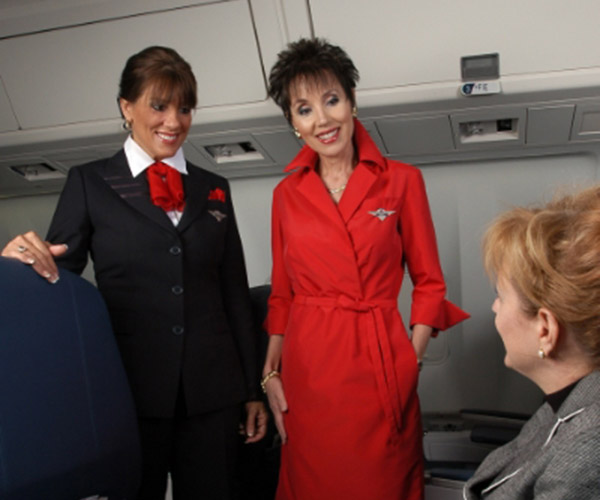 Today
Acclaimed fashion designer Zac Posen unveiled a brand new uniform just last year (2016). The collection was well received, with purple and red dresses for women and bright red tailored jackets for men. See our full report here.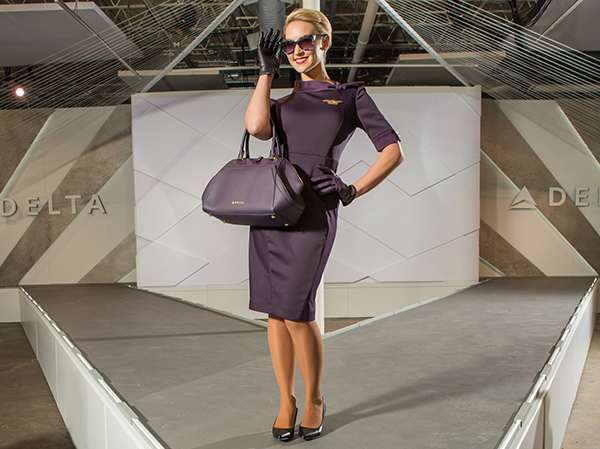 Here, we take a look in detail at Delta Air Lines uniforms across the ages: