Embroidery is defined as 'the handicraft of decorating fabric or other materials using a needle to apply thread or yarn'. This definition makes such a complex topic sound so simple.
Embroidery has been a big factor in many of our collections at Field Grey, from tiny decorations to large logos that brand our bespoke solutions.
We thought we'd take a very brief look at the history of embroidery and its influence on fashion and textiles. We've picked ten seminal moments from across the centuries to try and build a picture of the story of embroidery as a whole. Of course, this list barely scratches the surface and we'd love to know what your favourite embroidery moments are. We'll be focussing on embroidery and its influence over the next few months on the blog, but in the meantime…
1.The Daoist Robe of the late Ming Dynasty (1368)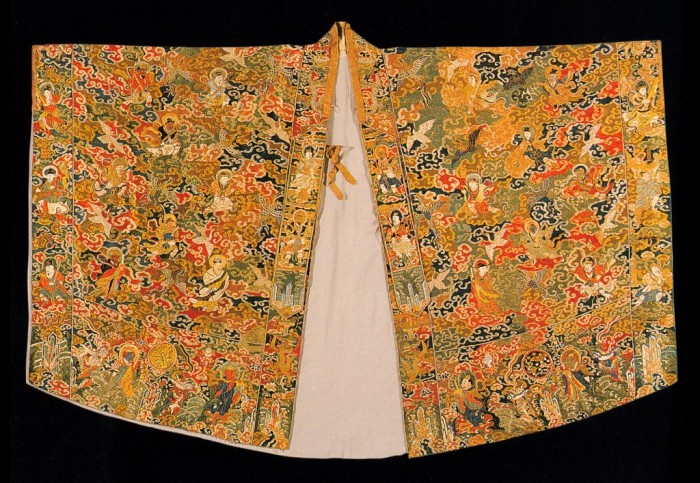 Embroidery is so tightly woven into Chinese culture and we owe a great debt to developments by the Chinese people throughout the ages. We could write a feature solely on the history of Chinese embroidery – hell, we might one day – but we're starting with this stunning Daoist robe of the late Ming dynasty. During this era, embroidery became so common in Suzhou that many families raised their own silk worms in their homes. The embroideries of the time were often inspired by traditional Chinese paintings, and their techniques gave rise to the term 'painting with the needle'.
2. The Thornton Chasuble and Opus Anglicanum (1510-1533)

This chasuble – the principal church vestment worn by a priest at the celebration of the Christian mass – is one of the most stunning examples from the medieval Opus Anglicanum period. Chasubles were made of rich materials, usually silks, and adorned with orphrey bands, embroidered with images of particular symbolic significance in Christianity. The embroidery dates to the early 16th century, while the style of the vestment dates to after 1600. On the reverse are the initials RJ, made for Robert Thornton, Abbot of Jervaulx, for whose coffin the cloth was originally made.
3. English General's Uniform (1820)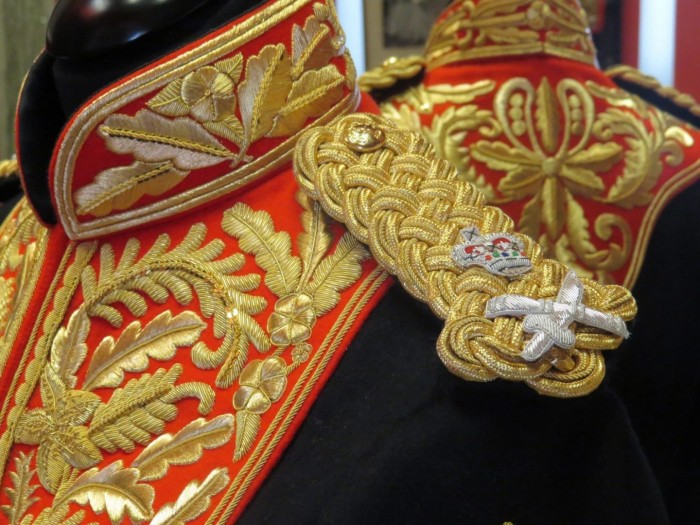 Embroidery has long featured on the most ostentatious of uniforms throughout the ages. From monogramming to epaulettes, Goldwork has been a prominant force in creating symbolism and gentry in the uniforms of armed forces. This jacket, by famed embroidery brand Hand & Lock, who have produced garments like this for centuries. They have mastered goldwork – the art of using metallic threads – across everything from uniform to couture.
See also: Michael Jackson's military jacket by Gieves and Hawkes, with embroidery by Hand & Lock.
4. Wedding Dress, Charles Frederick Worth (1880)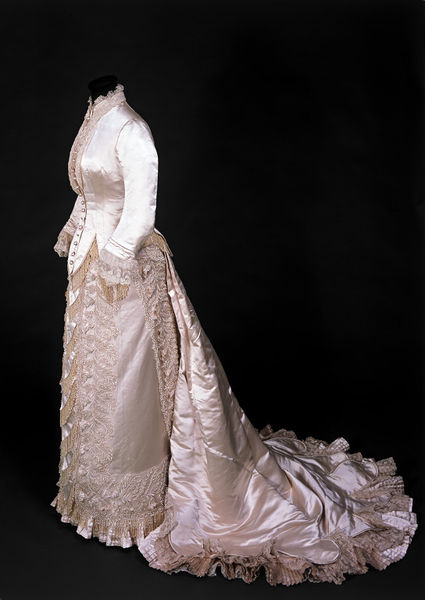 No embroidery feature would be complete without a nod to the father of Haute Couture, Charles Frederick Worth. Worth revolutionised the business of fashion in Paris and became synonymous with the most elaborate and lavish of evening wear. This wedding dress, designed in Paris, was worn by socialite Clara Matthews at her wedding at St George's Church in Hanover Square in London. It is a fine example of Worth's dedication to this art form; layers of satin painstakingly embroidered with pearls.
5. Sujukan Jacket (1941)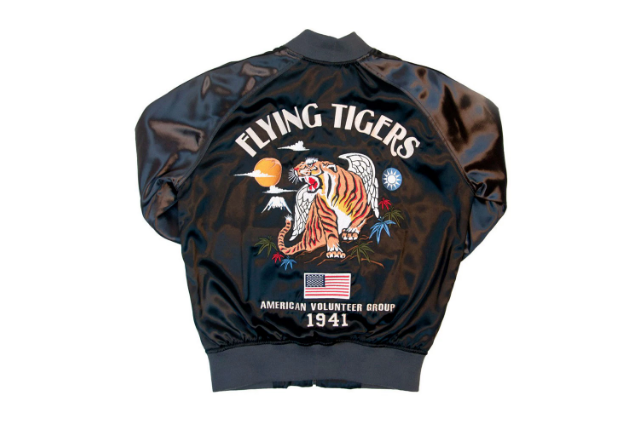 The Sujukan or Souvenir jacket came to prominence during and after World War II, when American forces took home embroidered silk coats as souvenirs, using varsity styles as inspiration. They had dragons and blossom trees embroidered onto the uniforms. During the 1960s, the influence of American trends on Japanese society was enormous, and the souvenir jacket became a fashion staple. Since then, the icon has evolved, seen in countless films and on countless catwalks.
6. Queen Elizabeth's Canada Tour Gown, Norman Hartnell (1957)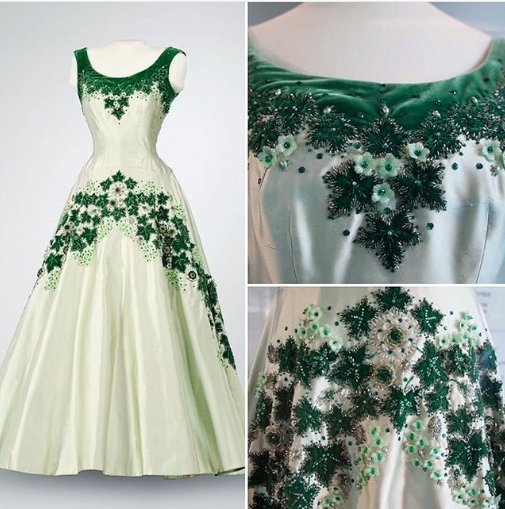 Royal couturier Norman Hartnell's designs for Queen Elizabeth II are a masterclass in embroidery and embellishment. In his challenge to dress our monarch appropriately and with elegance and style, Hartnell produced countless gowns for various royal occasions. This evening gown, worn by the sovereign for her tour of Canada in 1957, is Hartnell at his best. It is an exceptional gown, designed to dazzle from afar. Yet, close up, the dress displays a message: numerous embroidered maple leaves give a nod to the Commonwealth nation.
7. Evening Dress, Cristobal Balenciaga (1960-1962)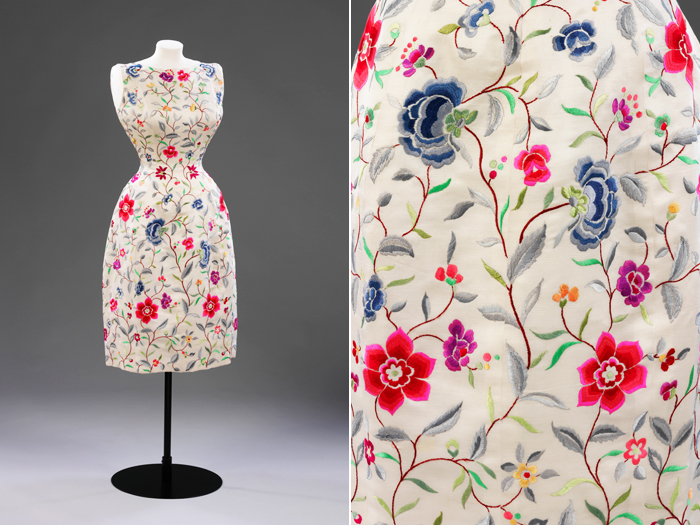 No article on embroidery would be complete without a nod to the grand master – and we don't mean Cristobal Balenciaga. We're referring to François Lesage. We could reference pretty much any embroidered couture from the last century; Lesage was and, as Maison Lesage, is, responsible for many of the most iconic embellished designs that pack the history books. We've plumped for this simple yet elegant gown as it combines the design prowess of Balenciaga with the craftsmenship of Lesage; we of course could have included anything by Chanel, Dior, Balmain or the other fashion powerhouses.
See also: anything by Lesage – maybe this iconic 1990s Versace bustier?
8. Evening Dress, Bill Gibb (1974)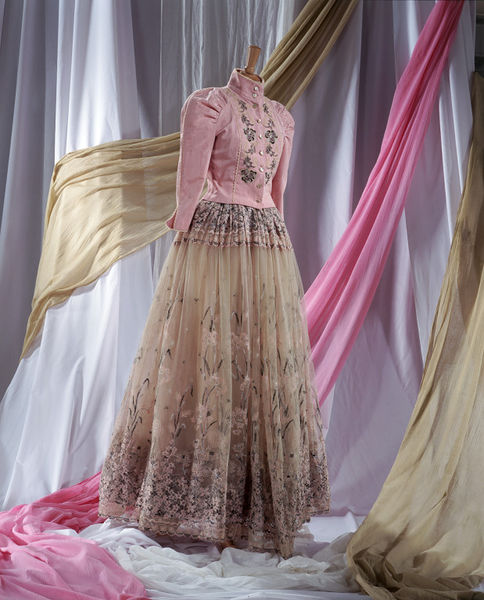 Scottish fashion designer Bill Gibb's creations in the 1960s and 1970s became synonymous with most exciting designs of the era. With some help from ex-boyfriend and long term collaborator Kaffe Fassett, Gibb created enduring designs that capitalised on embroidery techniques. This particular ensemble, from his AW74 collection, features a silk jacket with pearlescent buttons, lace and beaded embroidery, and a full, bouffant skirt in pale pink tulle with wide bands of black and pink lacy embroidery. It is a masterclass in technique.
9. The Final Collection, Alexander McQueen (2010)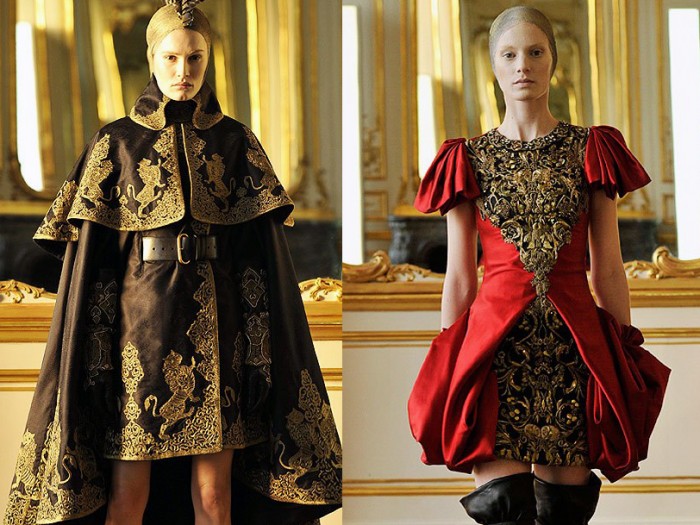 Alexander McQueen was a master of 'embroidery for dramatic effect' throughout his career. From his own early collections to his work on couture at Givenchy, McQueen possessed skill and craftsmanship and an eye for minute details that was unrivalled in the industry. There are many examples of exemplary embroidery throughout his career, but we've chosen his final collection, AW10, shown shortly after his death at the age of 40. McQueen wanted to return to the handcraft that he so loved, resulting in a legacy collection of exquisite goldwork and handcrafted art. Sarah Burton continues this legacy.
Hoodie, Vetements (2016)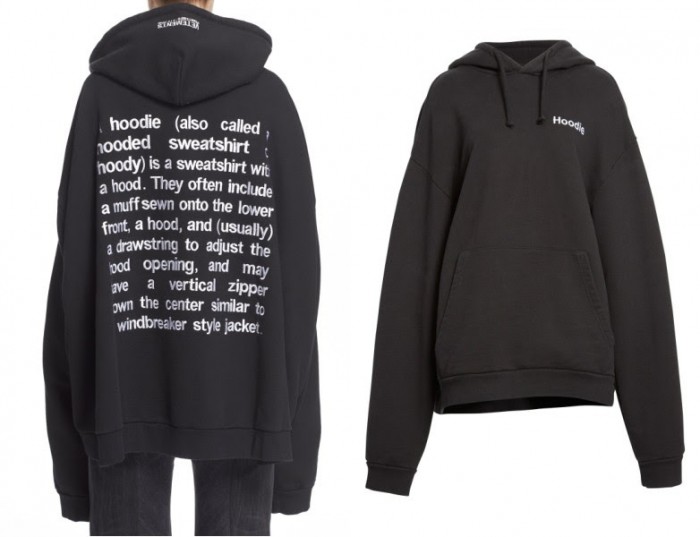 Finally to Vetements and Demna Gvasila, who dominate the market with their tongue-in-cheek fasion satire. We particularly love this oversized hoodie with machine embroidered definition on the reverse. Embroidery is still, and always will be, renowned as a high end technique that separates high street from high end, and this item sums this concept up perfectly.
See also: Balenciaga's embroidered homage to Bernie Sanders' campaign logo.
Next, we'll explore how embroidery has influenced us directly at Field Grey.