Siu-Lan Choi is Design Director at Household Design. We worked with Siu-Lan and the team on the 1a St James project, a flagship premium retail experience, to provide a unique uniform solution. We caught up with Siu-Lan to talk about the results of the award-winning project, the customer experience as a whole and what this year holds for Household. Enjoy!
Hi Siu-Lan! Can you tell us a bit about Household and your role there?
Household is an award-winning customer experience design agency. Our key belief is that a brand is defined by its experience; the way a customer interacts with it.
We work together with our clients through our consult–create partnership, taking a commercial approach that keeps the customer at the heart. We work from insight to brand strategy, design innovation and activation, through all channels. We want to make brands amazing and customers happy. Our clients stretch from high-end to high-street across Europe, the US and Asia, including Halfords, Harrods, Conviviality Retail (owner of Wine Rack and Bargain Booze), Meny (a leading Norwegian supermarket) and Christian Louboutin.
My focus as a Design Director at Household is to lead multi-skilled design teams to ensure consistently creative solutions are delivered every time.
What do you think is so important about the customer experience?
Customers are the ultimate judge of a brand and what it does for them. A brand isn't just about its logo or what it says but more about what it does and how it connects emotionally with customers.
We know customers buy meaning, not just products, from brands. For example, the majority will avoid brands that go against their values (71%, according to Gensler's Brand Engagement Survey). It's this kind of knowledge that makes us think differently about what we need to do for customers on behalf of the brands we work with.
What have been your favourite projects?
There are too many personal favourites to list but most recently the spaces we have been creating for Christian Louboutin and our work with BIPA in Austria spring to mind.
We have worked with Christian Louboutin for a number of years and each concept is a new adventure; embracing the personality and eccentricity of Christian himself is vital – we use this knowledge to tell new stories in each new location, underpinned with an understanding of the differing customer (and client) needs in each.
BIPA is a beauty, health and home care brand with a vast estate across Austria. The challenge here was to turn an already successful brand into an even more successful one! It was a fulfilling project working closely with the in-house teams based in Vienna to enhance the personality of the BIPA brand, introducing a more engaging customer journey that increased the dwell-time, frequency of visits and ultimately sales.
Of course, I can't leave out working with our fantastic clients at BAT on building the 1A St. James's retail brand.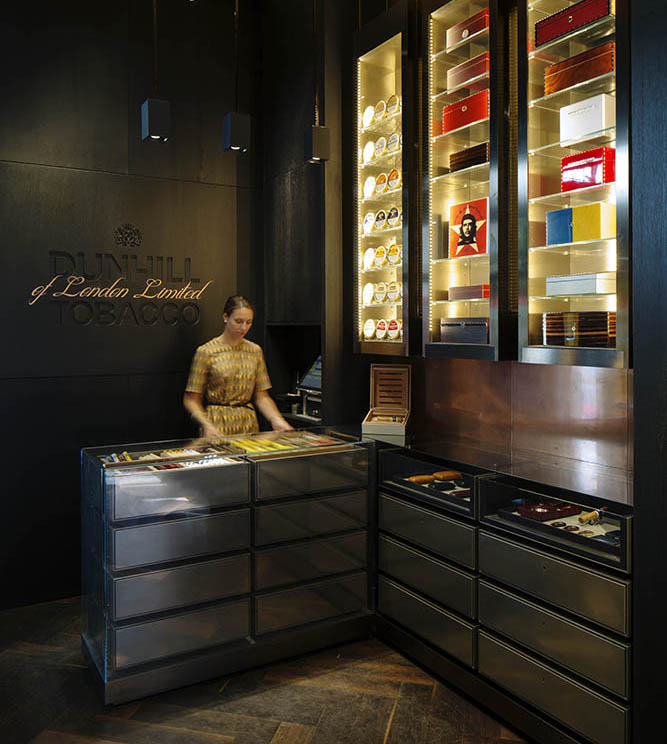 Which brings us nicely on to 1a St James: can you talk us through it?
We were asked to transform a flagging retail space at 1A St. James's Street, London, into the spiritual home of Dunhill Tobacco of London Limited.
The client wanted to give its customers an opportunity to rediscover the craft of tobacco in a retail environment and wanted a store that would connect with the brand's 'aficionado' target audience: adult tobacco consumers who are curious explorers of life and its pleasures.
This flagship site needed to communicate the brand's history and identity, building on its London heritage to develop a blueprint for a super-premium retail brand. Moving away from the heavy tradition of tobacconists, we created an experience that is less old gentlemen's club, more aspirational lifestyle hangout.
The key idea was 'new heritage,' to bring the brand's rich history to life. The design respects the Grade II* restrictions of the building whilst creating an ultra-modern experience rich with creative cues that appeal to the discerning aficionado.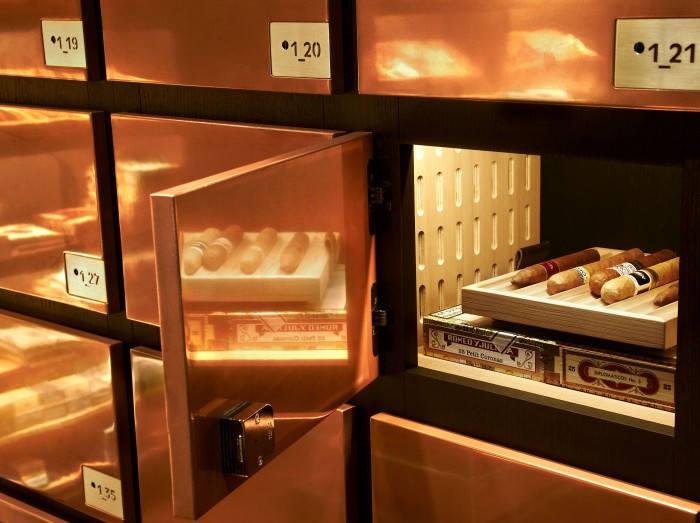 There are four experience zones: the retail space where visitors are invited to browse a curated range of premium products; the Sampling Lounge, where guests try cigars in comfort and privacy; the Humidor, lined with smoked oak bookcases resembling cigar boxes, and a glowing wall of humidor lockers where customers' personal cigars are stored in optimal conditions; and the Master Blender's Room, where highly valued customers can meet with the Master Blender and find out more about the art of tobacco blending.
How did Field Grey contribute?
We approached Field Grey to develop a uniform for men and women to complete the new retail expression of Dunhill. Janice and the team took on board our initial ideas and created a family of pieces using tobacco leaves as inspiration. They provided fittings for the new staff which resulted in custom-made three-piece suits for the men and a bespoke patterned dress for women. The added details, such as the Alice Made This cuff-links and the bespoke copper-plated belt buckles, help reflect the premium-feel of the environment.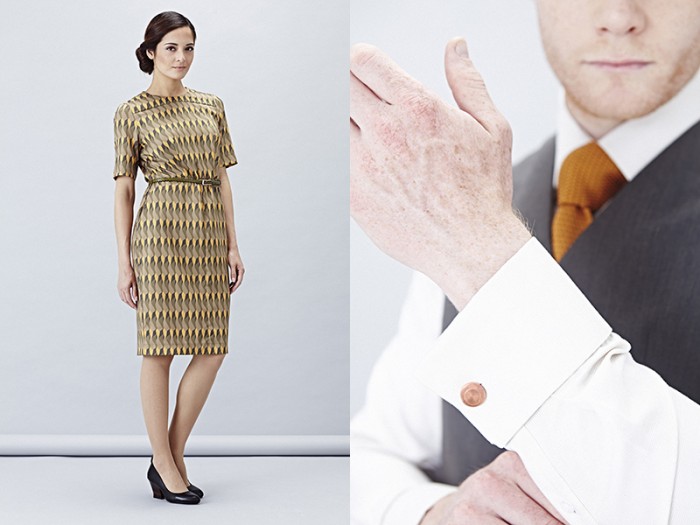 What were the main factors when approaching a uniform provider?
It was important to partner with an agency that fully embraced the concept with its many layers of experiences. We had an instant rapport with Janice, which resulted in us being able to work closely and in a very detailed way together.
Is this an approach Household has adopted before?
We take a holistic approach to all our projects and uniform is part of that. Mostly, the ideas we put forward are executed by client teams in-house – we don't often get to partner in the same way as with Field Grey and it was great to be able to drill down to the smallest of touches.
How does the uniform at 1a St James effect the customer experience?
The uniform at 1A St. James's is the icing on the cake in many ways. It not only sets the scene for the service level that is expected from a customer point of view, it also respects the in-store team as experts in their field. The attention to the details put into creating the uniform reflect the unique, crafted and aspirational qualities of the brand and reinforce the spiritual home of Dunhill as a lifestyle choice – not just a shop.
What does 2015 have in store for Household?
Household continue to work with Dunhill on exciting ways to move the 1A St. James's brand forward.
In addition, we're continuing to work with Christian Louboutin, having just opened a new store in Printemps in Paris. We're also celebrating the launch of our new restaurant offer and bedrooms at Watergate Bay Hotel in Cornwall (below) and have a couple of exciting projects about to launch for two new major clients in the next couple of months – watch this space!