A new exhibition at the Design Museum celebrates the life and work of Azzedine Alaïa.
Tunisian-born Alaïa, referred to as the 'rebellious couturier' by The Guardian, was a self-styled mysterious fashion figure. From the inception of his own studio in 1964 right up until his final show in 2017, just before his death, Alaïa captivated audiences with his unique silhouette-driven designs and Haute Couture techniques. He dressed the world's most glamorous women, from Greta Garbo to Naomi Campbell. He created many iconic looks, particularly those worn by singer and supermodel Grace Jones.
Azzedine Alaïa obsessed over the Grand Masters of Haute Couture: Madeleine Vionnet, Charles James and Cristóbal Balenciaga. He collected many of the latter's collections. It was these designers who influenced his work the most and fueled his fire for couture techniques.
The Exhibition
The exhibition is, remarkably, the first solo exhibition of his work here in the UK. It is also the first major fashion exhibition the Design Museum has hosted at its new home in Kensington. After the success of shows like Hussein Chalayan: From Fashion and Back and Christian Louboutin: 20 Years, we were thrilled to see the museum's calendar will continue to feature major fashion retrospectives.
While most fashion exhibitions tend to be a series of rooms, this is one cavernous space packed with Alaïa's greatest work. Each tableaux is divided by decadent screens. These have been designed by some of Alaïa's friends and associates. The first breathtaking display is framed by a ten-metre copper chainmail-like screen designed by Alaïa's close friend Marc Newson.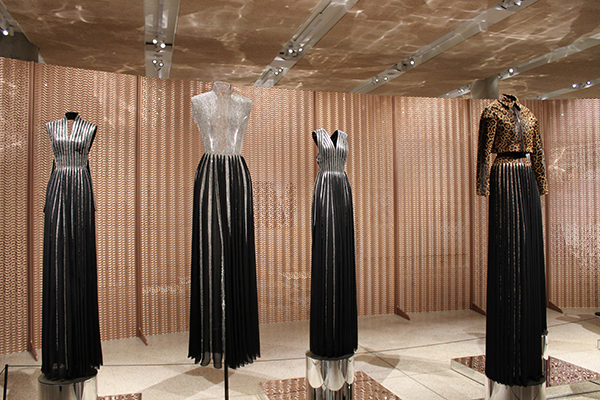 In front of it stand six dresses elegantly displayed on transparent perspex mannequins, grouped under the heading 'Sculptural Tension'. Alaïa originally trained in sculpture at Tunis' School of Fine Art and these designs show off the couturier's passion for the subject, and his love of experimental materials such as metals.
Other displays explore the designer's love of textiles, the different locations that have inspired him, and his love of the colour black.
The Displays
'Revolutionary Skins' focusses on his revolutionary use of leather. He challenged the material's fetishistic overtones and created elegant, timeless pieces that wrapped the female form. 'Fragility and Strength' displays Alaïa's prowess with other materials such as chiffon, including that red dress worn by Rihanna at the 2013 Grammy Awards.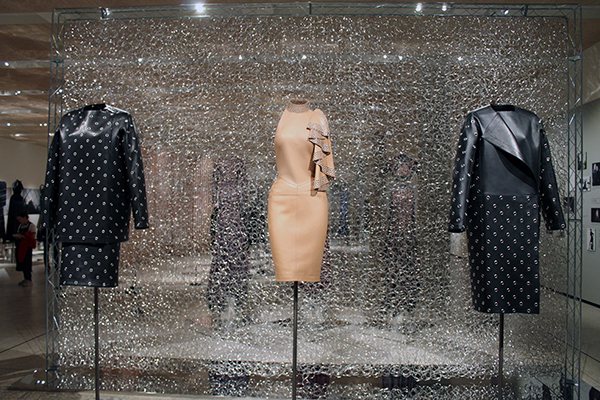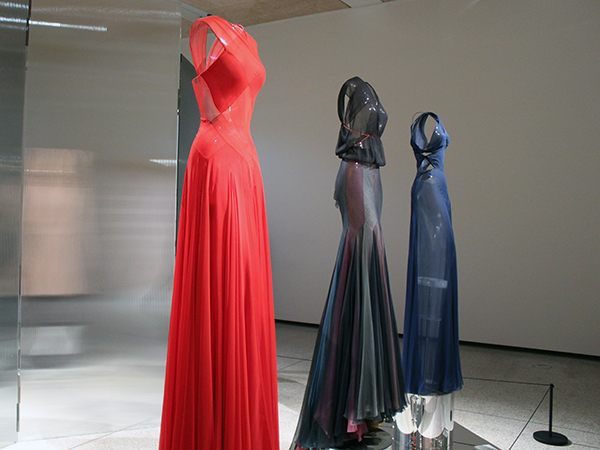 Other displays include 'Exploring Volume' – a large display of different dresses that showcase Alaïa's inimitable talent for voluminous ballgowns, while 'Wrapped Forms' closes the exhibition with some of the Alaïa's most iconic designs, including the cerise Badelette dress worn by Grace Jones at the 1987 Fashion Oscars.
The exhibition runs until 7 October 2018. For more information, visit the website.