A new exhibition at the Victoria & Albert Museum celebrates the work of Christian Dior and his eponymous fashion house's illustrious seventy year history. With pieces from 1949 to now, Christian Dior: Designer of Dreams features hundreds of garments and accessories created by Dior and his successors.
It seems unbelievable that only six creative directors have been at the helm of the house since Christian Dior's death in 1957. While Yves Saint Laurent, Marc Bohan, Gianfranco Ferré, John Galliano, Raf Simons and Maria Grazia Chiuri have all brought their own style to Dior, each designer stays loyal to the house's founding father. The exhibition celebrates this, overtly mixing together works of the different designers rather than presenting the pieces chronologically.
The tableaux are grouped together by themes and inspiration instead, presented on Nathalie Crinière's incredible sets.
The New Look
The exhibition begins somewhat poignantly with one exhibit cutting a lonely figure in a glass cabinet. This is, in fact, the iconic Bar Suit that the fashion press crowned the 'New Look' in 1947. Symbolic of the time, it is presented with four looks inspired by the Bar Suit that the house's successors would go on to create.
Dior and Britain
After a selection of New Look era dresses, a room dedicated to Dior's Anglophilic reputation comes next. The centrepiece is a dress designed for Princess Margaret's 21t birthday, surrounded by a selection of designs for British high society around that time.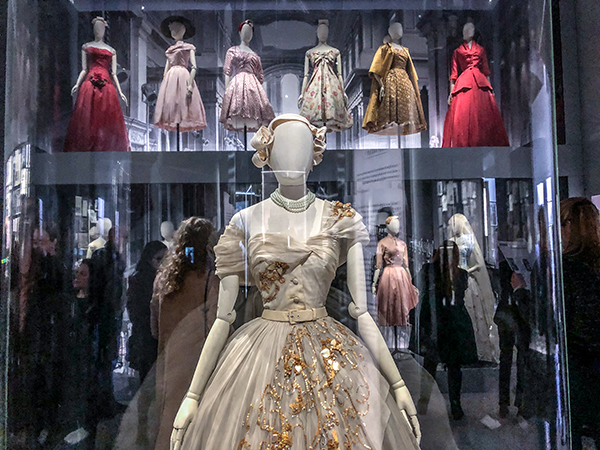 Historicism
Exhibition visitors are then catapulted back to the 18th century and before, with designs inspired by historical periods. Many a Dior collection has included references to the Belle Epoque and fashions at Versailles; the romanticism of dramatic silhouettes captivating Dior and his designers for seventy years.
Travels
A highlight of the exhibition, this room showcases garments that have been inspired by various locations across the globe. Grouped together by location, it shows how local dress and costume have been interpreted (and on occasion, appropriated) by the different designers at Dior. The room includes John Galliano's Egyptian-themed SS04 Haute Couture collection devoted to Nefertiti and ancient Egypt and Maria Grazia Chiuri's recent collection inspired by Mexican escaramuzas.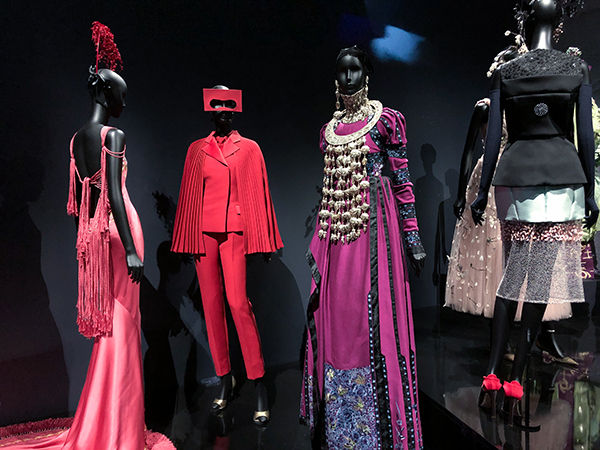 Dior Directors
This room is the only one dedicated to telling individual stories of the different directors, grouping their most iconic pieces together. Most striking is the contrast between Raf Simons' minimalism and John Galliano's theatrical haute couture. But, even in this room where the designers celebrated individually, the similarities are striking; cuts, fabrics and colours all inspired by the great Dior himself.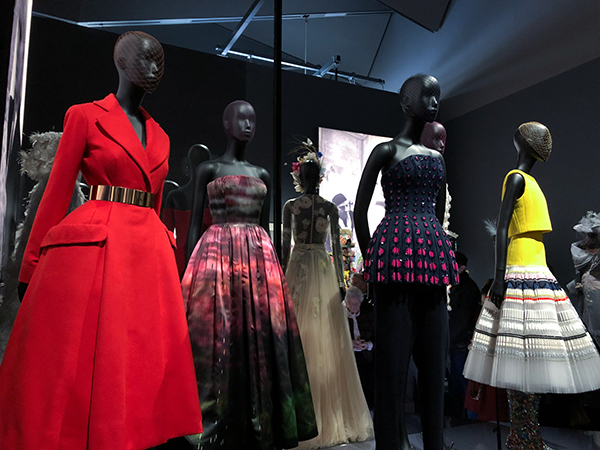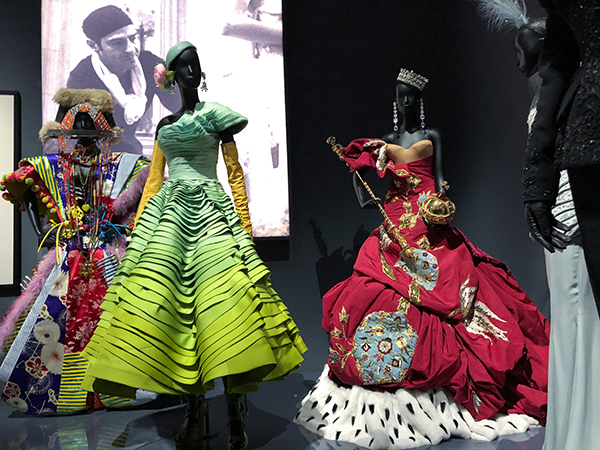 Florals
Perhaps the most Instagrammable of all the rooms, this suite features designs inspired by nature, surrounded by beautiful paper cut florals.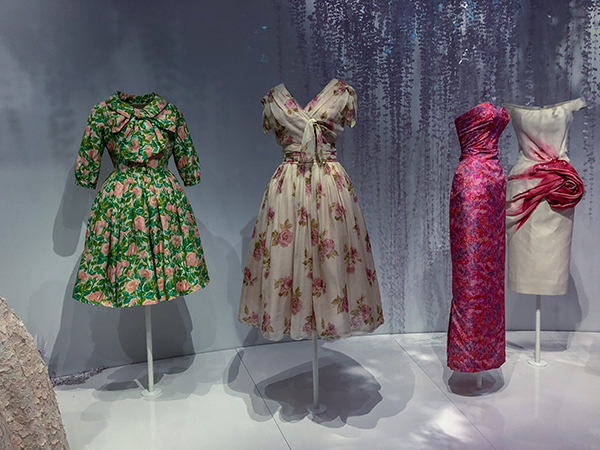 The Atelier
As designers and clothing manufacturers, we were thrilled to see the atelier room: a room packed full with various toiles from across the decades. To see designs stripped to their original forms – realised designs we'd viewed only in the previous room – was a real highlight.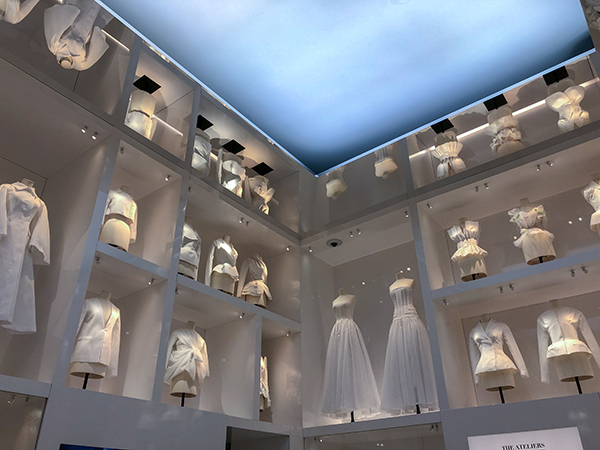 Diorama
Dior fans will salivate in the Diorama room, a room jam packed with accessories and objet spanning seventy years. The items have been grouped together by colour, making a genuine visual treat.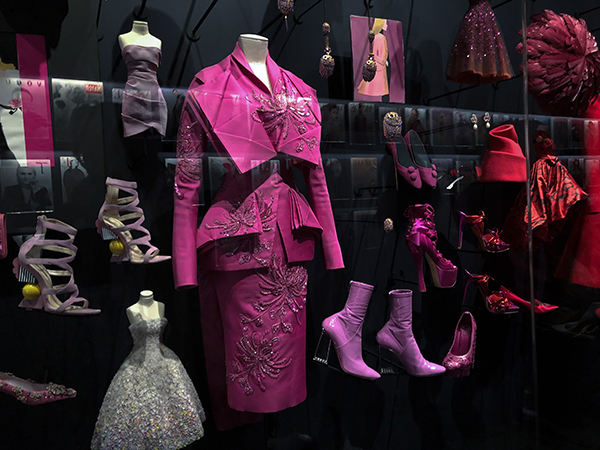 The Ballroom
The climax of the exhibition takes place in a majestic ballroom, complete with central rotating platform (broken on the day of our visit). The walls are transformed by a dazzling light show as you survey some 60-plus dresses from Dior's 69 year history, climaxing with a stand devoted to recent celebrity wearers such as Rihanna and Lupita Nyong'o.
Here's a survey of all the dresses we saw:
Christian Dior: Designer of Dreams has been extended until 1 September 2019. For more information about the exhibition, visit the V&A website – and follow us on Instagram for all our latest news and snapshots of London and beyond!