Field Grey are thrilled to present our latest Readywear project: Elmore Court in Gloucestershire.
Elmore Court
Elmore Court is a unique and award winning wedding and events venue in Gloucestershire, set in an historic house which affords stunning views over the Cotswolds and the River Severn. The building was originally built in 1274 as a home, with the same family opening the doors as a stunning venue in 2013.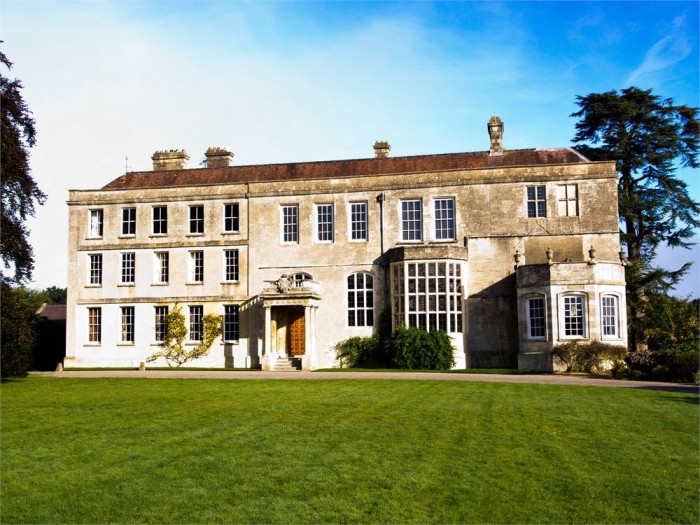 With dramatic architecture, gorgeous gardens, fantastic food and wonderful wine, Elmore Court is the jewel of the county. The owners of Elmore Court discovered Field Grey's Readywear collection earlier this year and approached us to provide a uniform solution for their waiting and bar staff.
Readywear is a collection of 36 key uniform items with 'pick 'n' mix' values, where customers can tailor workwear to meet their demands.
Design
Elmore Court were looking for a clean, contemporary and minimal uniform to work across their events team. With a focus on the history of the estate, we agreed to incorporate a rich dark brown tone from Readywear for aprons, paired with crisp white shirting and a mushroom grey bespoke embroidery.
The Collection
Elmore Court's logo features a swan's profile, which translated perfectly through embroidery. We explored a range of colour ways for the embroideries including yellow ochre, a brand colour, and tone on tone shades for a more subtle finish.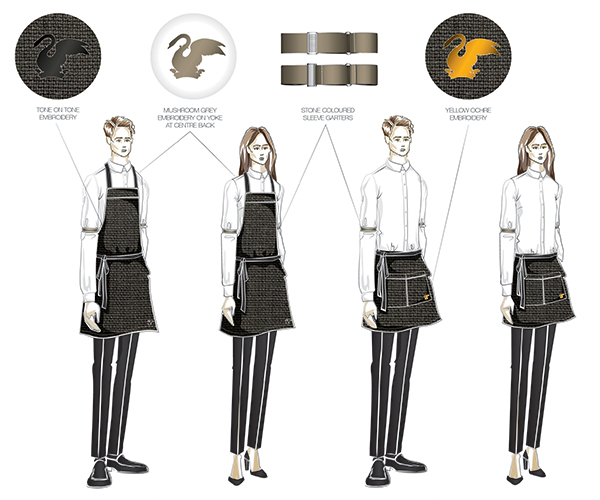 This was applied to the yolk of crisp white shirts and two lengths of apron. On the white shirts, a mushroom colour embroidery was selected; on the dark brown aprons the same colour has been applied. The colour palette and the design both bring heritage values to the collection, with a fresh, modern aesthetic.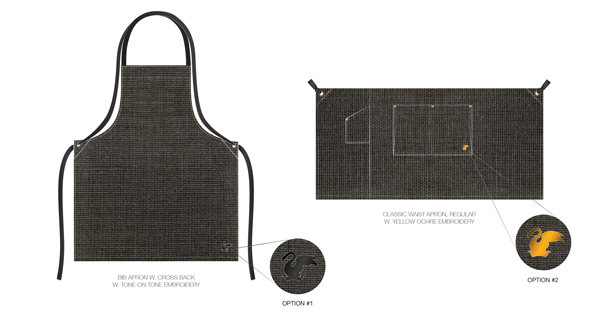 The Readywear collection is manufactured in reliable, functional materials. The aprons are made from cotton, which will age and build character through wear. We teamed this with nickel hardware for a contemporary and contrasting finish.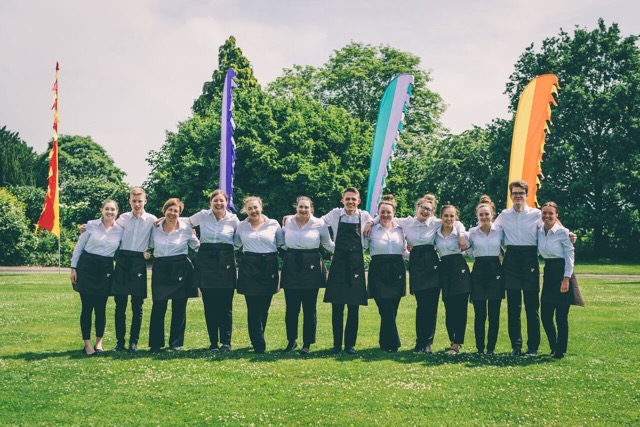 For more information about our Readywear collection and how you can tailor it to meet your business needs, visit the website, email dee@field-grey.com or give us a call on 02079986787.