Once a year the freshest talent from the UK's universities break out and showcase their graduate collections at Graduate Fashion Week.
At the Old Truman Brewery in Shoreditch, fresh-faced graduates present collections three years in the making, fuelling the beginning of careers in the fashion industry. Floods of people, from students to stylists, attend to be inspired by the newest ideas and latest trend setters. It is an event that can't be rivalled with opens doors for young designers, giving British talent a world-renowned platform.
Over 1000 students showcase collections promoting different textures and textiles. This year was a feast for the eyes, with experiments in a multitude of techniques, from appliqué to embroidery. This year was full of optimism, with groundbreaking examples of construction and silhouettes.
This year Field Grey attended the Kingston University show. Kingston is synonymous with the most talented students, having picked up a number of awards across the years and with alumni that includes John Richmond, Felipe Oliveira Baptista and Caryn Franklin.
Here's are five of our favourites:
Lou Lou Hicks
Lou Lou Hicks presented layered oversized sweaters with embroidered messages with elements of workwear. Strongly influenced by youth culture, this was an inspirational and powerful collection. Large, graphic shapes and numbers were applied to the garments, with an opulent colour palette of black, silver and ballet pink.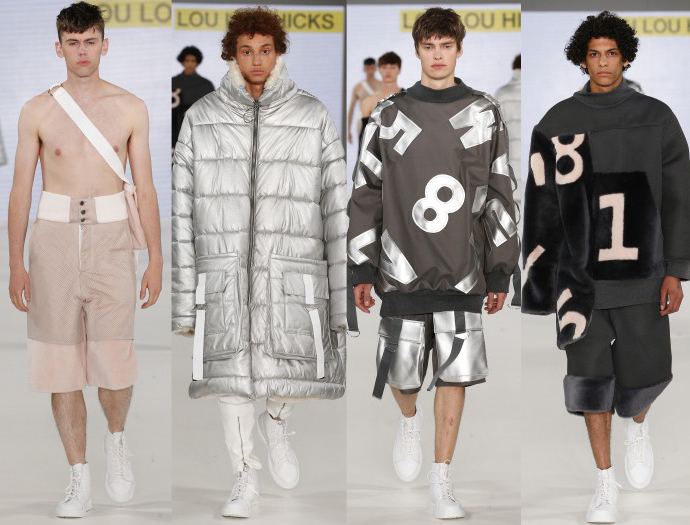 Kasubika Chola
Promoting the importance of upcycling and reusing materials, Kasubika Chola constructed reclaimed denim garments into new looks – good enough for Caryn Franklin, who modelled in the show. Denim pieces were married with African fabrics for a truly unique collection.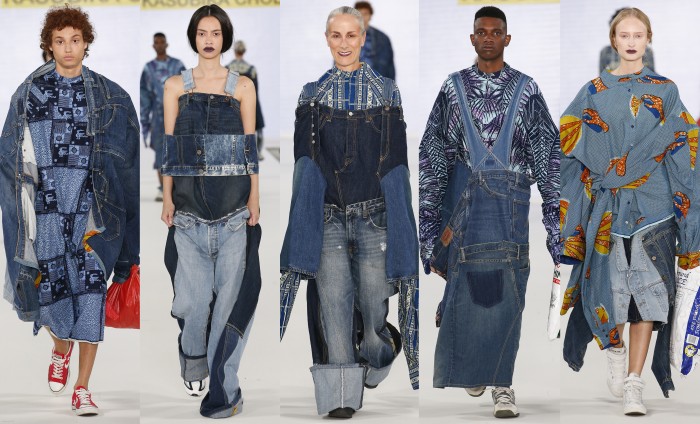 Kate Clark
We fell in love with Kate Clark's weird and wonderful creations. Bridal-inspired silhouettes with voluminous sleeves were constructed from taffeta and organza, in playful bubblegum colours. These featured childlike cartoons, stuffed toys and plush teddies, evoking memories childhood dreams.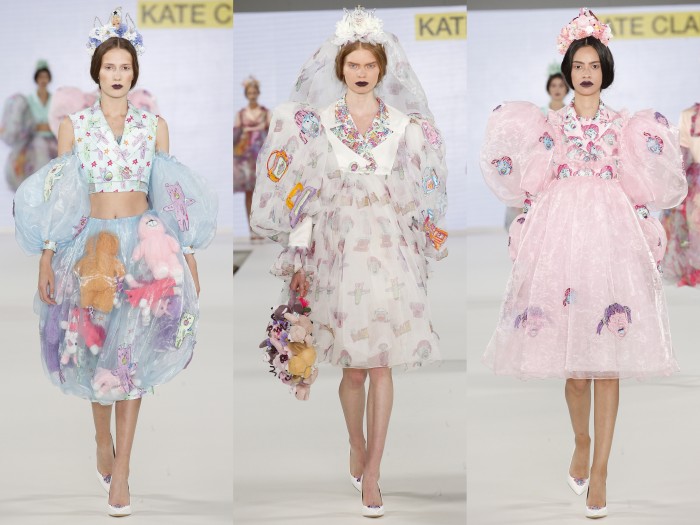 Omid Taherkhani
We were also fond of Omid Taherkhani's blend of futuristic menswear. He used interesting materials with space-age aesthetics, combined with meteorite colours, and his silhouettes were enlarged and exaggerated.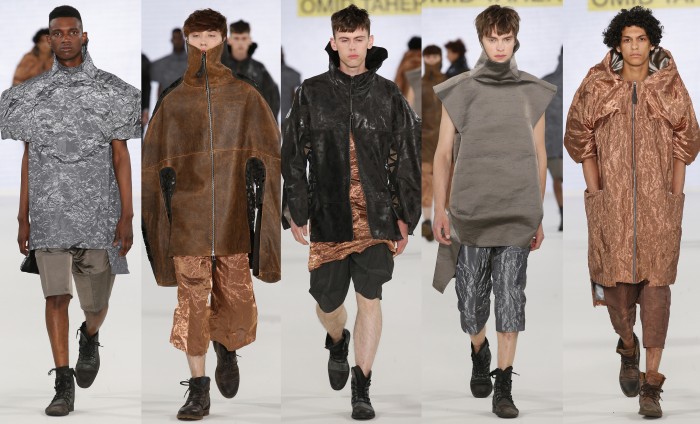 Evanjali Reddy
In stark contrast, Evanjali Reddy's collection was an ultra-feminine, glossy affair. Layered looks in salmon pink and red were complicated to digest, but pleasing to the eye. Reddy's silhouettes were strong and powerful, amplifying the female form with peplum details and quilting techniques.