It's the most wonderful time of the year! A London Christmas is like no other. The capital is at its best during the festive season; Oxford and Regent Street have been decked with bright lights, while stores, hotels and bars get dressed in their festive finest.
Hotels and department stores take decoration very seriously. Creating a buzz around Christmas is vital and many establishments employ renowned artists and designers to art direct their designs. Others host lavish 'switch-ons' and host special Christmas-themed events. Here are our favourite festive designer displays this year:
The Connaught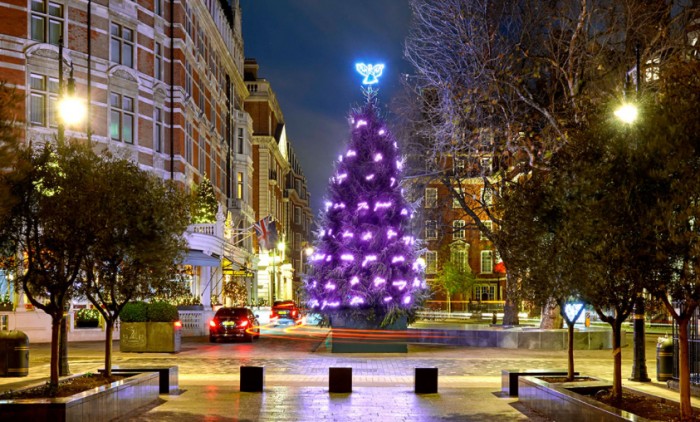 This year's Connaught Christmas Tree is designed by none other than artist Tracey Emin. Her design, following in the footsteps of other great British artists like Antony Gormley and Damien Hirst, uses her trademark signature neons. The words form a poem, written especially by Emin for the Connaught, which reads:
What I give to you is all I have.
An Open wanting
Deep in The Layers of my heart
And in Return I catch
Your smile
The Greatest Gift of All
© Tracey Emin / The Connaught
Tate Britain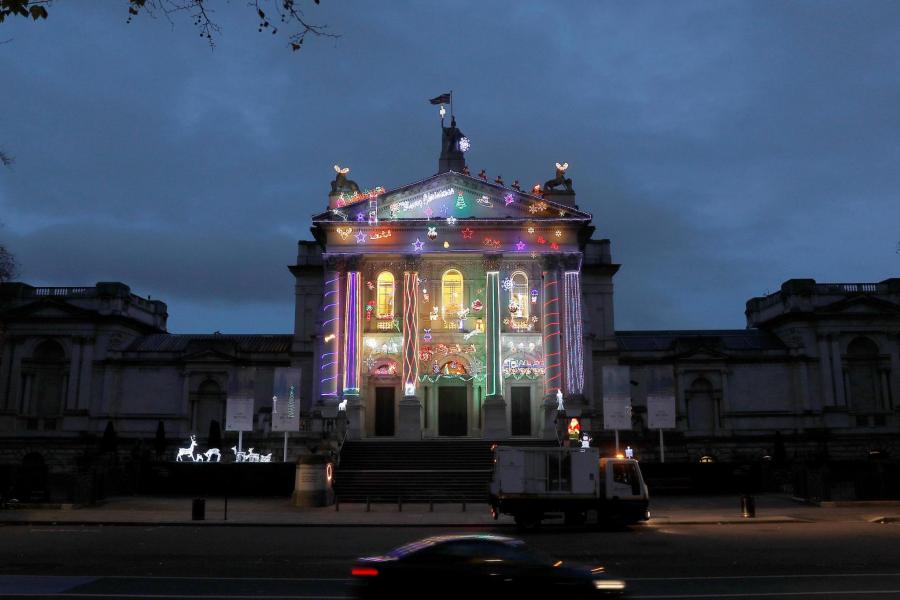 This year, the iconic facade of Tate Britain has been taken over by artist Alan Kane, who has covered it in brightly coloured Santas, reindeer and LED rope lights. It is a playful take on modern art, challenging what you would and would not expect to find hanging in a gallery (and particularly on its front).
Hoi Polloi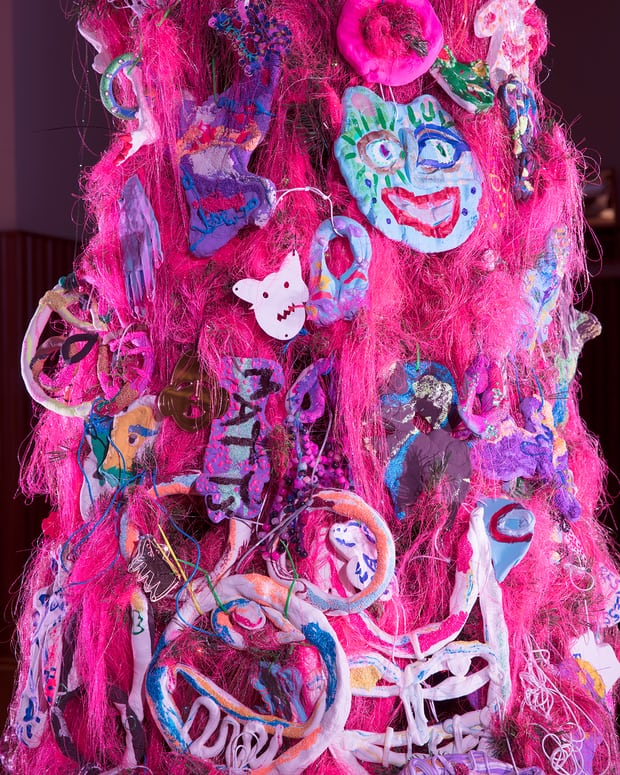 Hoi Polloi this year enlisted Central Saint Martins graduate and fashion designer of the moment Matty Bovan to decorate their Christmas tree. Bovan has abandoned the typical festive colour scheme for something more sexy, with a hot pink lurex tree decorated with handmade sculptures in neon. The tree sits proudly in the centre of Hoi Polloi at the Ace Hotel, Shoreditch.
The V&A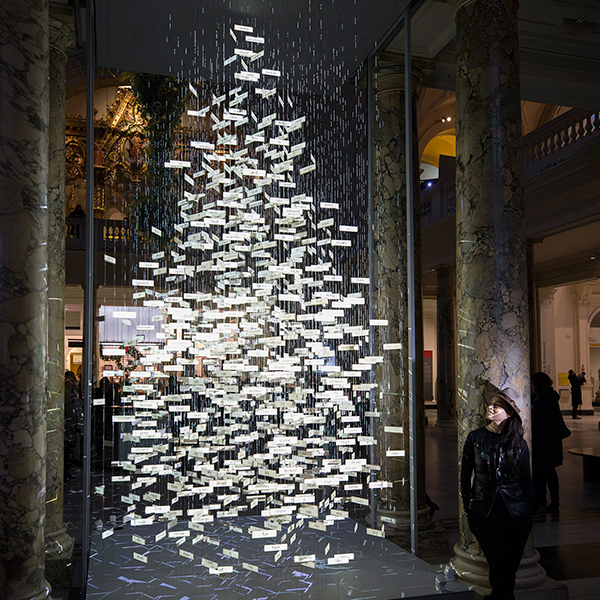 The V&A presents a 'singing tree' with digital word projections that create a poem for their offering this year. Created by Es Devlin, Beyoncé's set designer, the tree is a cloud of floating words, contributed by the museum's visitors. It is a magical display unique to the V&A.
Claridge's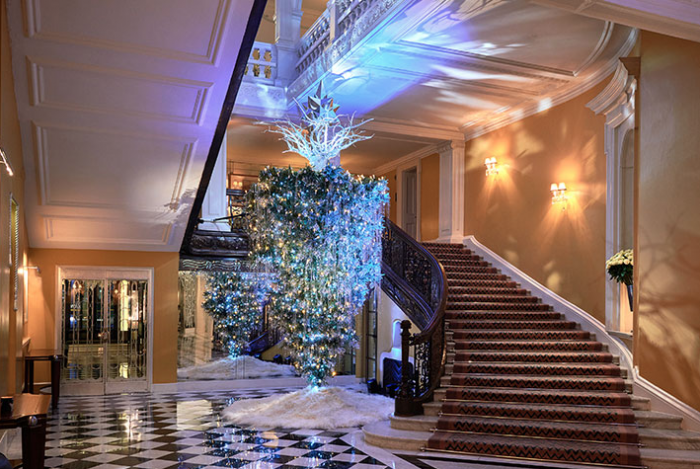 Kaiser Karl Lagerfeld takes on the challenge of the Claridge's Christmas tree this year. Not to be outdone by the likes of Elber Albaz and Sir Jonathan Ive, Lagerfeld has literally flipped the trees upside down, with the ornate roots of each tree becoming the main spectacle, gilded in silver. The tree is decorated with leather feathers and snowflakes.
London Edition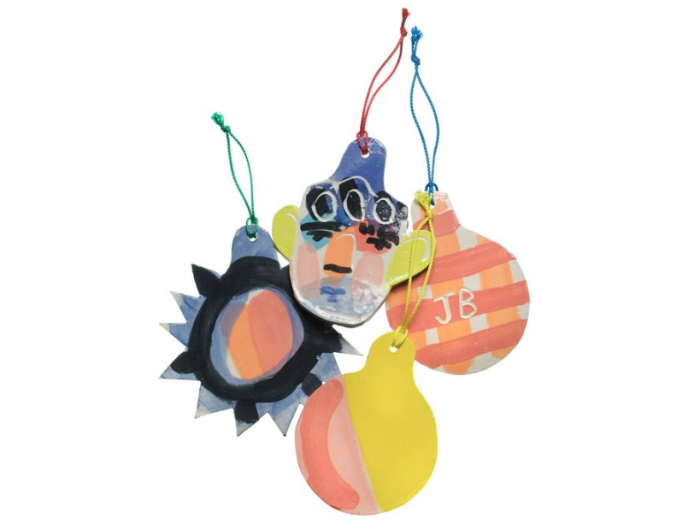 The London Edition's tree is adorned with ceramic decorations designed and created by London-based artist and textile designer John Booth. Booth is renowned for his playful, vibrant ceramics and has previously worked with Fendi. The ceramic decorations are available to buy at the House of Voltaire.
London St. Pancras International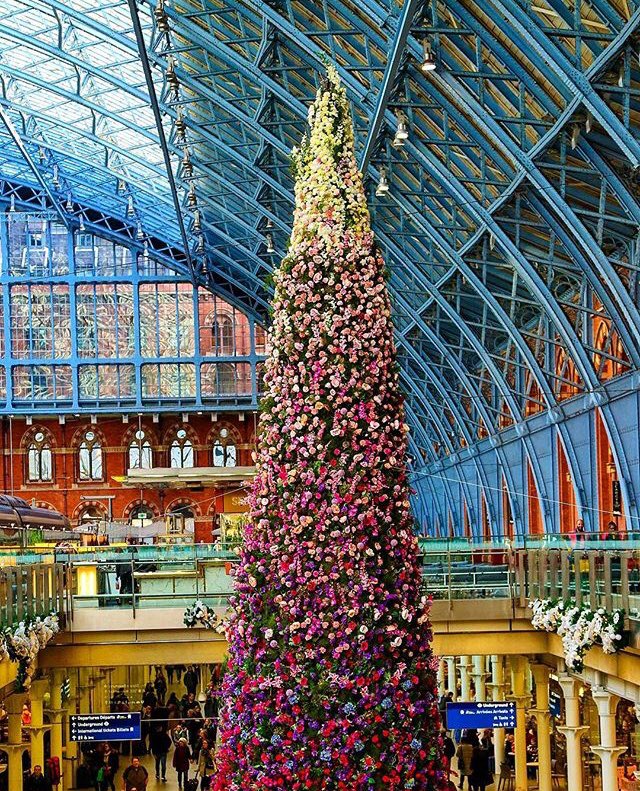 From afar, the London St. Pancras International tree looks like any other traditional one. But on closer inspection, it is actually constructed from hundreds upon hundreds of flowers, meticulously arranged by station florist in residence Moyses Stevens. The tree stands proudly at 47 feet and is one of the most dramatic displays this season.
The Sanderson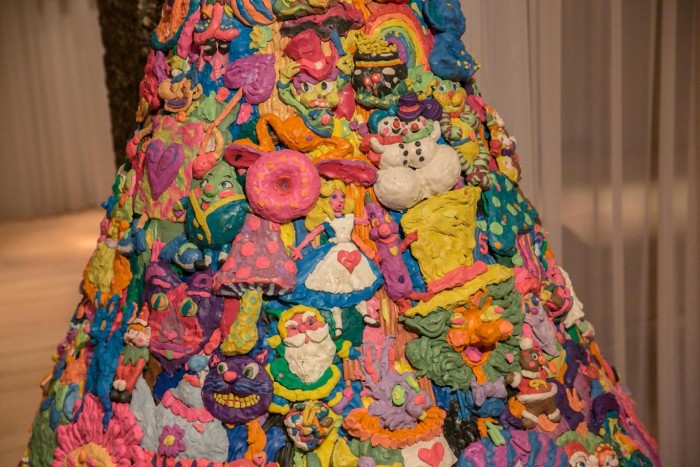 Gary Card's plasticine Christmas tree might be London's quirkiest yet. The tree, which took 36 hours to make, is made entirely of the vibrant modelling clay. It features a host of festive characters, from Alice in Wonderland to classic snowmen.
BONUS: Field Grey!
Our Christmas tree this year is a beautiful wooden affair, made from recycled pallets!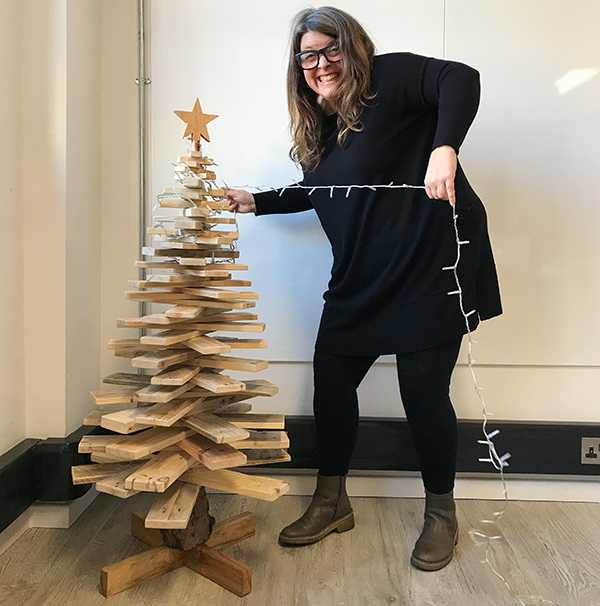 Happy Christmas to all, love from Field Grey – don't forget, if you're looking for a stocking filler, there's still time to buy one of our apron making kits, with 10% of sales going to the Pancreatic Cancer Research Fund.