As the menswear weeks seem a distant memory, we've been busy exploring the collections for inspiration and the latest trends.
The collections are a constant source of inspiration to us, and in turn, uniform and workwear are a constant resource for fashion designers. Here, we've put together a selection of our favourite trends and uniform or workwear nods from the SS18 menswear shows.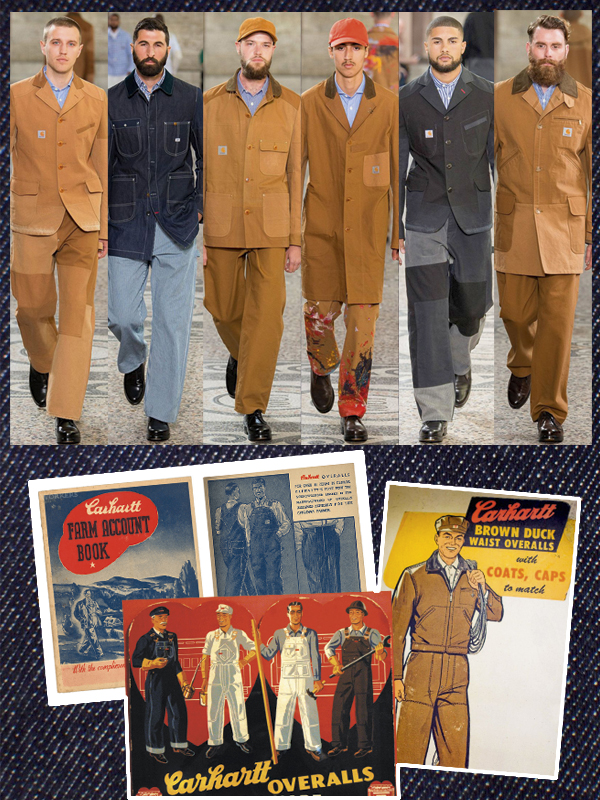 Classic Carhartt at Junya Watanabe
Junya Watanabe continued to collaborate with some of our favourite brands this season: The North Face, Levi's and Carhartt. The latter was the standout collaboration, which saw models in Watanabe's trademark patchwork creations constructed from classic shades of Carhartt's signature colours. Some designs even carried paint splashes in an extra nod to workwear.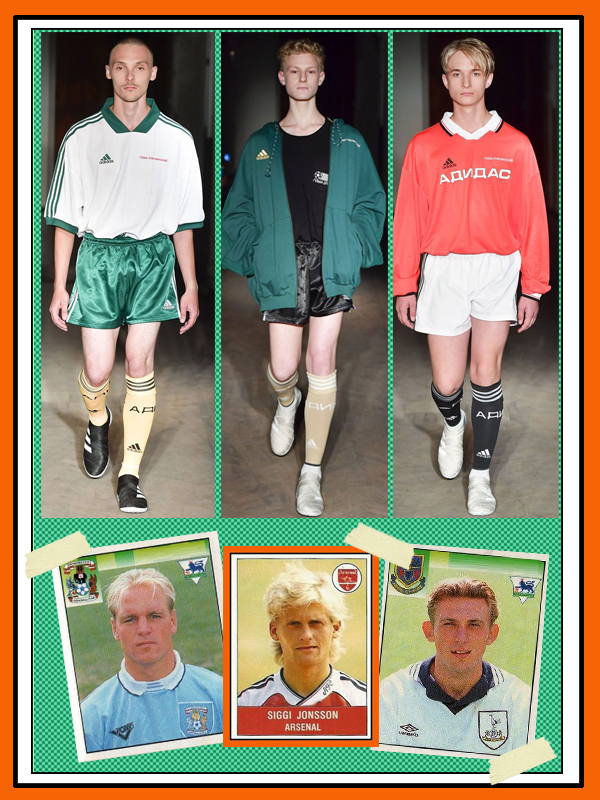 Goal for Gosha
Sportwear is always a dominant feature at the collections of the most interesting designers, and Gosha Rubchinskiy scored a hat trick with a collection paying homage to 1990s football. The slick styling reminded us of football sticker books, with 1990s hair and loose-fitting football uniforms. Also: any excuse to look at pictures of a young David Seaman.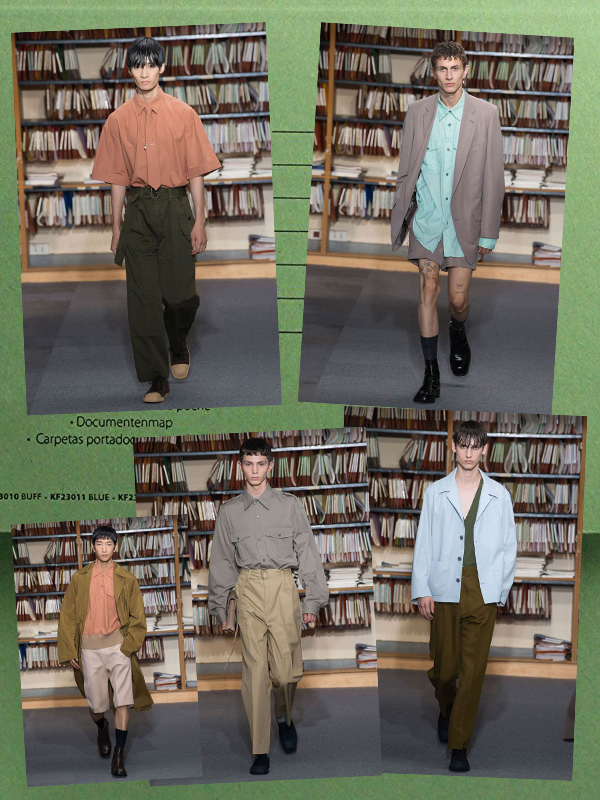 Dries van Noten takes office
We love the aesthetic of Dries van Noten's SS18 show, with a backdrop of foolscap suspension files – the colours of which even translated into this collection. It was colour that was the stand out feature, with long blazers, belted trenchcoats and buttoned-up shirts appearing in these heady hues unique to the designer.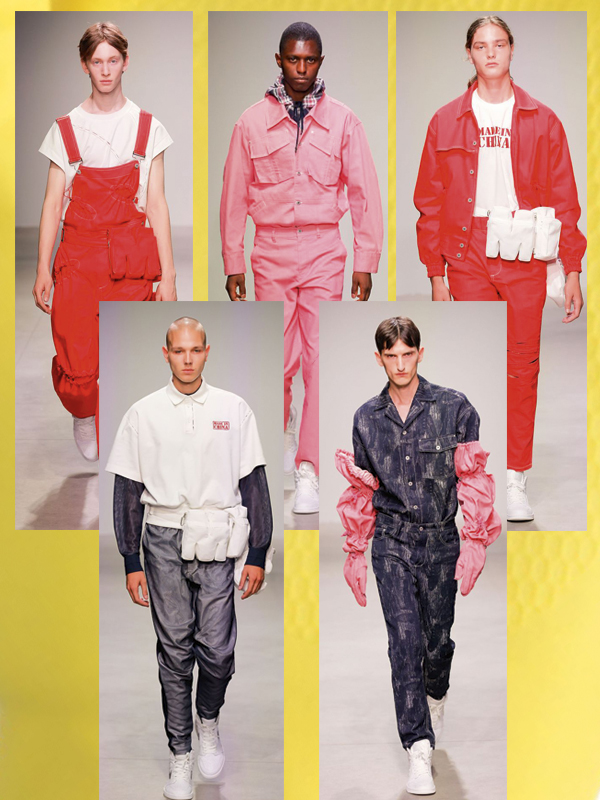 Futuristic Fashion at Feng Chen Wang
To Feng Chen Wang, who branded her models with a simple 'Made in China' logo. An RCA graduate, Feng Chen Wang dazzled us with her modern take on workwear, with oversized marigolds, colours taken from rubber gloves, and functional tool belt-style additions worn to the side of the waist. With denim dungarees and jumpsuits, this collection was a uniform for the modern man.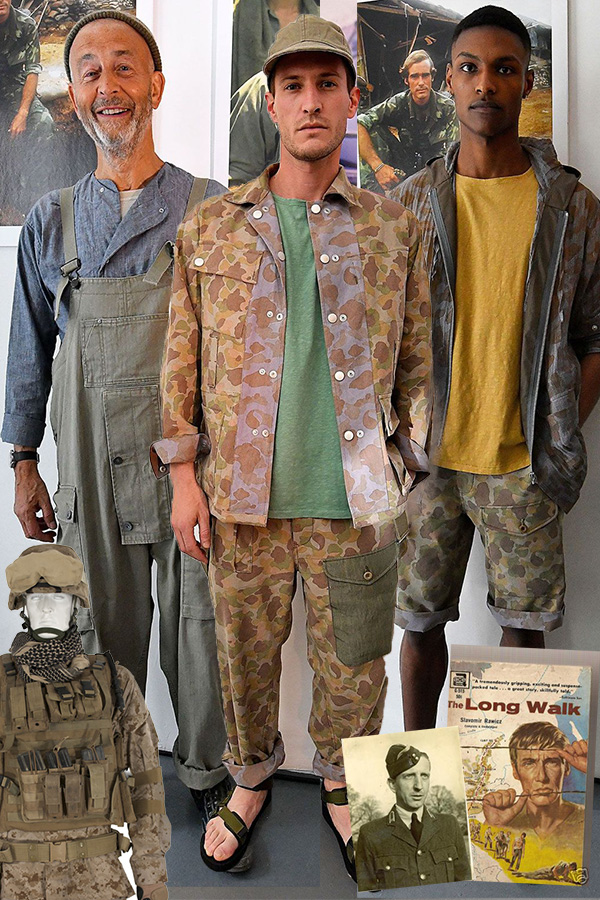 Military Man Nigel Cabourn
Field Grey favourite Nigel Cabourn always uses uniform and workwear as inspiration; over 35 years he has amassed a vast collection of military uniforms, sportswear and workwear items. His SS18 collection, 'What Happened to Sean Flynn', paid tribute to the photojournalist and son of Errol Flynn whose mystery disappearance in 1970 shocked the world. Using images of Flynn as source material, the collection focussed heavily on camouflage prints and military uniforms. Tailored jackets were teamed with loose-fitting pants; we especially liked the green boiler suit with workwear pockets.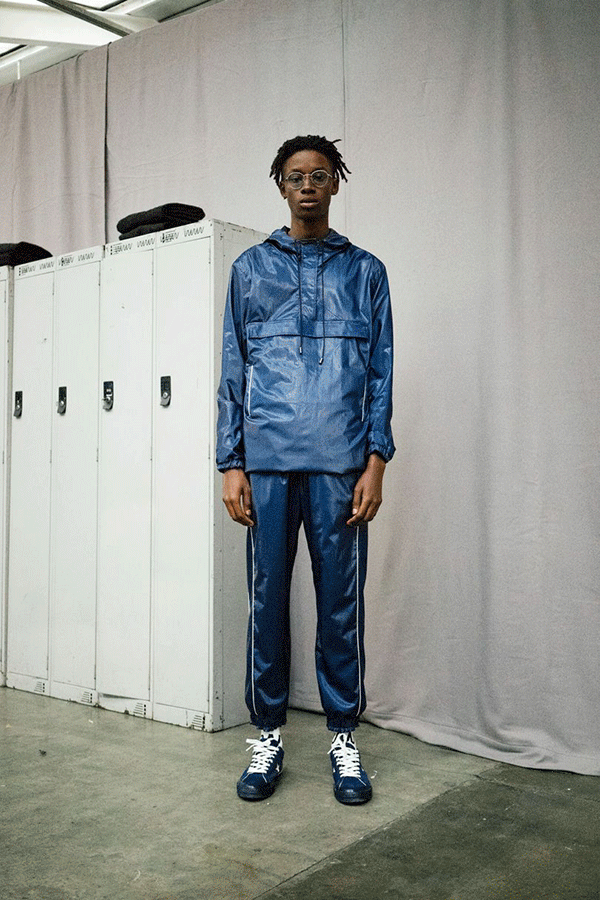 Tinie's Sports Luxe at What We Wear
Tinie Tempah combines luxury British style with modern sportswear for his label What We Wear. Presented on a bespoke basketball court, his collection comprises of classic sportswear items with a contemporary edge; basketball shorts in luxury materials and tailored jackets in rich colours.
Terrific Tailoring at Thom Browne
American designer Thom Browne is known for his subversive style, and this collection was about as anti-convention as it gets. Cleverly using classic menswear materials (pinstripe, suit cotton, wool), Browne literally mixed up tailoring by slashing jackets into capes and elongating shirts, creating fitted dresses. This intelligent combination of materials and cuts steered away from drag and steered towards an exciting direction in menswear.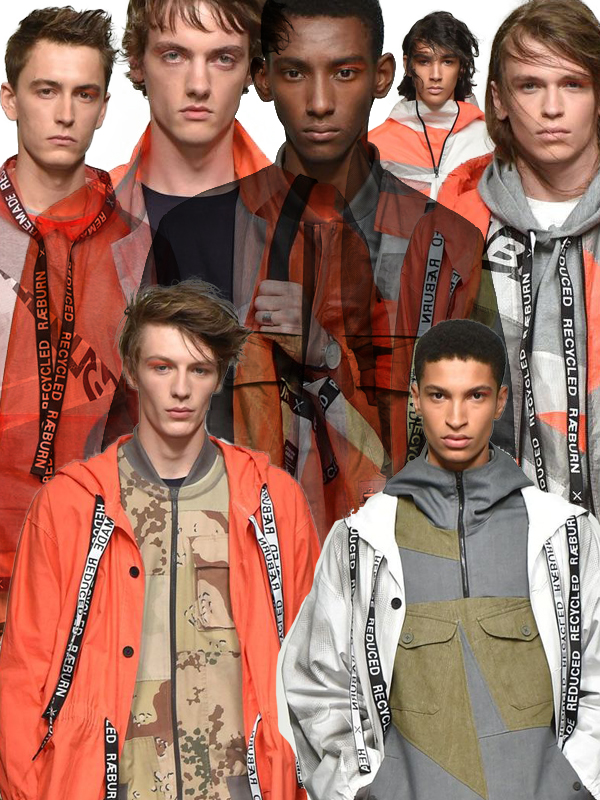 A Christopher Raeburn Adventure
Christopher Raeburn always appears on our hot list – one of London's brightest stars Inspiration this season came from The Long Walk, a book by Polish Army lieutenant Slavomir Rawicz, which chronicles an epic 4000 mile journey from Siberia to India, travelling through the Gobi Desert and Himalayas. The show had the sense of adventure accustomed to Raeburn's collections, with models wearing garments designed to withstand brutal conditions. A colour palette of orange, green and grey – Raeburn's signatures – turned functional sportswear into contemporary looks.
Postmodern Punks at Topman
A celebration of 1980s clubbing and New Wave at Topman Design, with a collection showcasing a distinctly Postmodernist flavour. Through tailoring, the team at Topman Design experimented with silhouettes, with elongated shoulder lines and high waists. Fabrics such as metallics and 1980s pinstripes completed these looks.