A big focus for us at Field Grey this year has been expanding and developing our Readywear collection. It's our goal to provide the most complete range of ready-to-wear solutions for the service industries' ever-changing workwear needs. So, this year, we embarked on a collaboration with Peper Harow ­– the West Sussex based luxury sock makers known for fusing modern eccentricity with classic British style.
Readywear X Peper Harow socks are currently available in Sage, Aubergine, Toast and Chestnut Brown colourways and in male and female styles, which fit UK shoe sizes 6 – 13 and 3 – 8 respectively, and are available now on readywear.co.uk.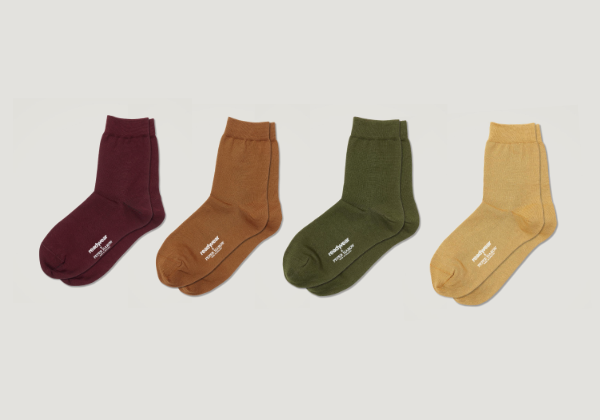 In early November we visited Peper Harow's factory to see our socks go down the production line, observing and filming each step of the process from knitting, washing, boarding and pairing to finally printing and attaching riders. It's a fascinatingly intricate process that involves all kinds of unique machinery. Click here to watch the full Readywear X Peper Harow factory film.
We've put over fifteen years of design and product development experience into our first ever sock collection. Over the years we've noticed a distinct lack of high quality, stylish socks within the off-the-peg market that meet our clients' needs and provide continuity between male and female styles, and so we can't wait to start providing both our bespoke and Readywear clients with a sock option that we've cultivated ourselves and really believe in.
Proudly designed and manufactured in the South-East of England, and available in 4 shades of stunning and sustainable Egyptian cotton blend yarn, our first ever sock range will provide the perfect finishing touch to any uniform outfit.