After the unprecedented challenges of 2020, Field Grey started 2021 full of optimism. And despite this year not being without challenges of its own, we are proud to look back on what has been a great year. We've seen several exciting new product developments in our Readywear range and worked collaboratively with our clients to deliver bespoke collections through the unpredictable industry landscape.
We've got plenty already lined up for 2022, but until then, the FG team look back on their own highlights of the year.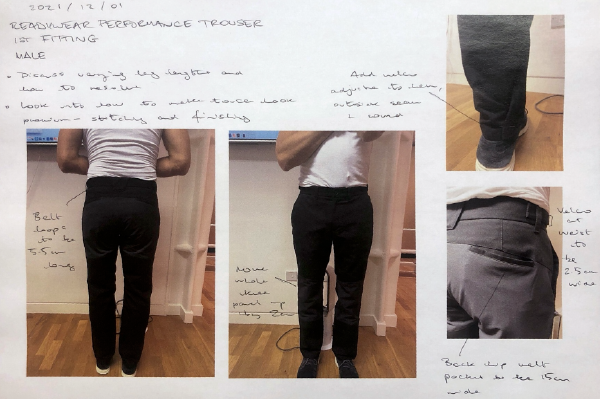 Performance: A new direction for Readywear
After many years of sourcing off-the-peg trouser options for Back of House teams, we felt it was high time to put our experience in creating bespoke performance wear into our Readywear range – and in November this year, the first prototype of our own performance trouser arrived in the studio.
"It's been a really interesting process, working into the design, looking at the technical properties and seeing how we can improve this to meet our clients' needs" says Alice, our Product and Production Manager.
With tweaks still to be made on the fit and finish, we'll be continuing to develop the Readywear performance trouser into the New Year. It's an exciting new direction for the range and we can't wait to start supplying our clients with our own performance trouser.
Readywear does neo-Japonism
It's been a great year for Readywear, with another upcoming addition to the range developed in 2021 ­being our male and female wrap jackets. The first samples arrived just in time for The Independent Hotel Show and HIX Event, where they immediately attracted plenty of attention from visitors to our stand.
Henry, our Design Assistant says – "I love the wrap jacket because it bridges the gap between casual and formal wear. In contrast to many of our existing pieces which were influenced by utilitarian workwear classics, the wrap jacket is reminiscent of a Japanese kimono, giving it an elegant look and feel that can lend itself to a more formal setting.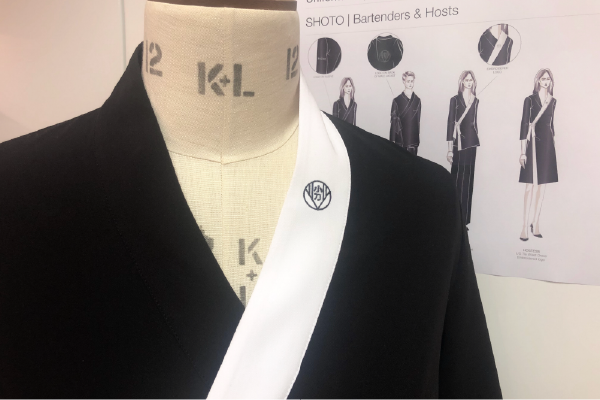 Launching SHŌTŌ and AKEDŌ
A much anticipated launch sadly delayed due to the pandemic, we've continued to work with Arman Naqi this year to complete the double collection for two new restaurant and nightlife concepts in Washington D.C, SHŌTŌ and AKEDŌ.
For Abigail, our Production Assistant who recently joined Field Grey, getting the SHŌTŌ wrap dress into production was a highlight this year. "It was the first project I worked on, so it was great to see this stage complete, and one step closer to reaching our client for their opening."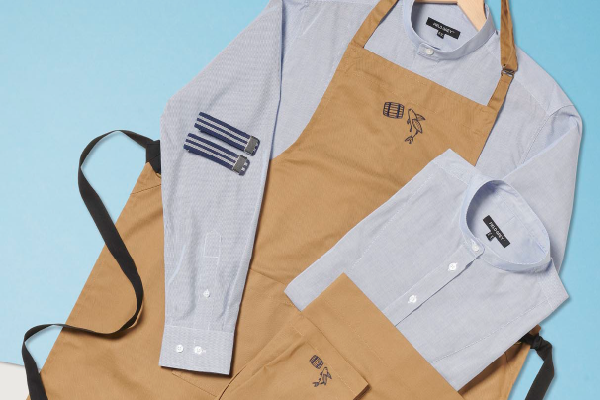 Antillean: bringing the Caribbean to the South Bank
Our first clients to visit the studio in-person after lockdown, Antillean were looking for a clean and crisp look to compliment the bright interiors of their brand new pan-Caribbean restaurant on London's South Bank. In response to their brief, we created a bespoke bib-shirt in a blue micro stripe to be paired with sleeve garters, bib and waist aprons from our Readywear range.
Their Chef Patron, Michael Hanbury, aims to bring something new to London's culinary tapestry and it's safe to say Antillean is doing just that. Back in August, we booked a table and tasted a delicious selection of their diverse and creative tapas-style menu.
"The Antillean project was my highlight of the year," says Amie, our Junior Designer. "We were working to a short lead time and delivered, which I am very proud of – but also, it was uniquely rewarding to be able to visit the restaurant in person as a team, to meet the staff and see the uniforms being worn in the space."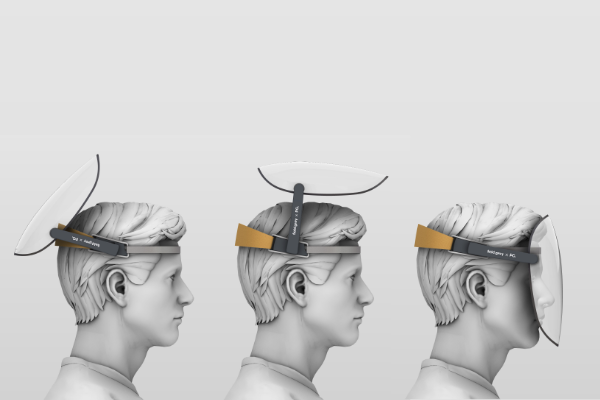 Face covering innovation: in collaboration with Priestman Goode
For Janice, our Creative Director & Founder, a highlight of the year was a project that was a great example of Field Grey innovation on a new kind of product.
"We collaborated with Priestman Goode amidst the pandemic to develop a face visor that had a smaller environmental footprint, could be folded and stored hygienically, and had the same impressive aesthetics as say, an Apple product. Many industries within the service sector have struggled to find face coverings meeting these criteria and still do."
As funding didn't come through on this occasion, the project didn't progress past the development stage – however Janice says, "watch this space!"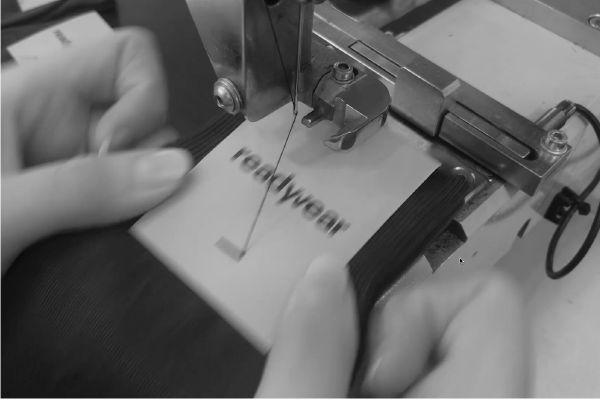 Our first ever sock collection, Made in England
Our socks have been created with quality, durability and continuity between male and female styles in mind, and we can't wait to start supplying both our Readywear and bespoke clients with a sock option that we've cultivated ourselves in 2022.
Izzy, our Studio Assistant, visited Peper Harow's factory in early November to see our socks go down the production line and film the process. "From knitting, washing, boarding and pairing to finally printing and attaching riders, I really enjoyed learning about and capturing each of these intricate production processes on film."