The latest in the Field Grey Portraits Series takes us to Hammersmith and Sam's Riverside, the new venue from restauranteur Sam Harrison.
Sam's Riverside is a neighbourhood brasserie serving Anglo/French food. We supplied a simple collection consisting of two aprons: a long-length waist apron and a full-length halter neck apron, both produced in olive-brown cotton. The latter was designed with female staff in mind. These are worn with white shirts and toast-coloured sleeve garters from our Readywear range.
When we launch a new collection, we like to commission portraits of the team who wear our designs. They bring the project to life and capture the garments just as they are intended to be worn.
Here's who we met at Sam's Riverside back in February of this year: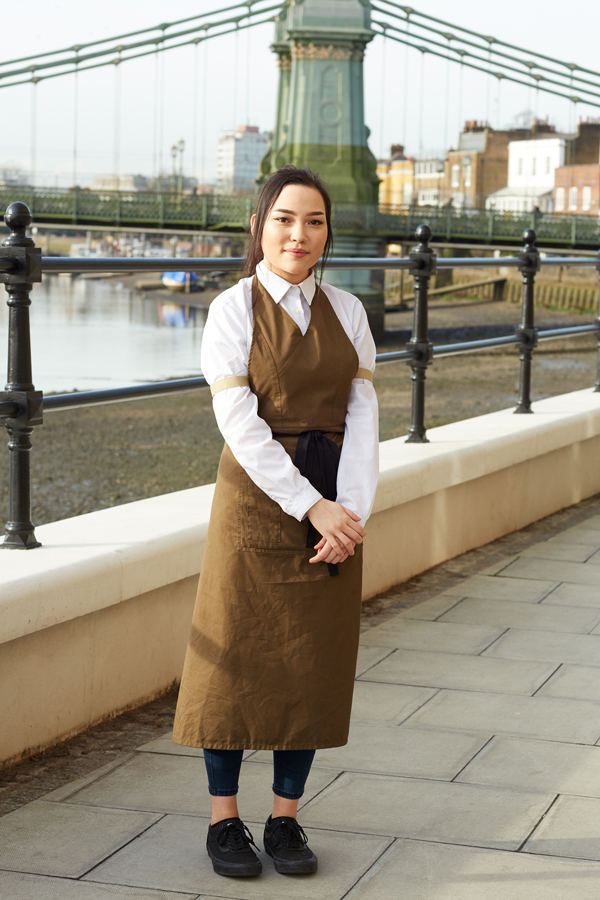 Yamini is a waitress at Sam's Riverside, originally from Kent. She loves the atmosphere at the restaurant, where a 'Thursday feels like a Saturday night'. She describes her own style as alternative, telling us that her 'wardrobe is a mess!' She loves London nightlife and going to gigs (pre-COVID, of course!)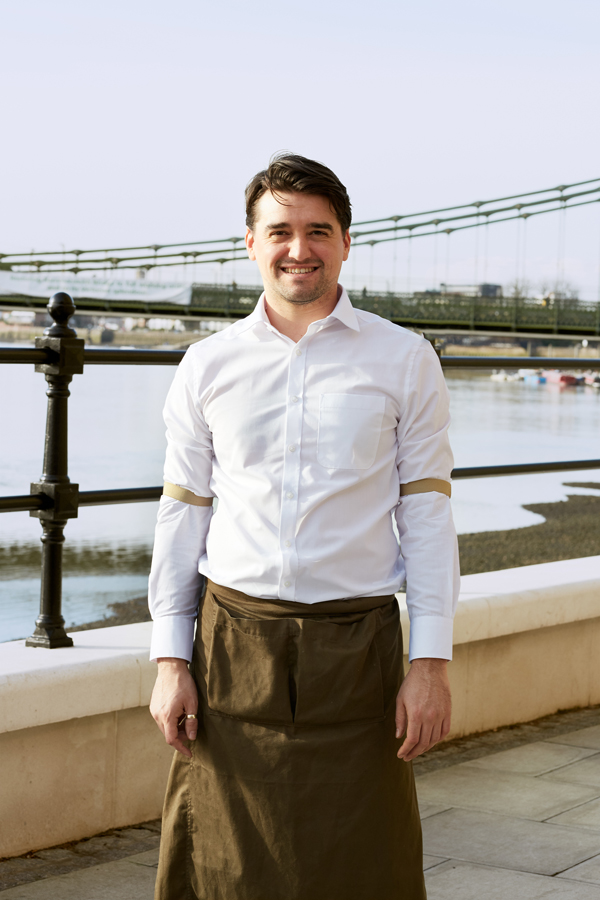 Jersey-born Jamie has called London his home for four years now. He's a waiter, and loves the social side of hospitality – chatting with the many diners at Sam's. In his spare time, he's building a custom motorbike; it came as no surprise when he told us he loves streetwear brands such as Vans and Volcom.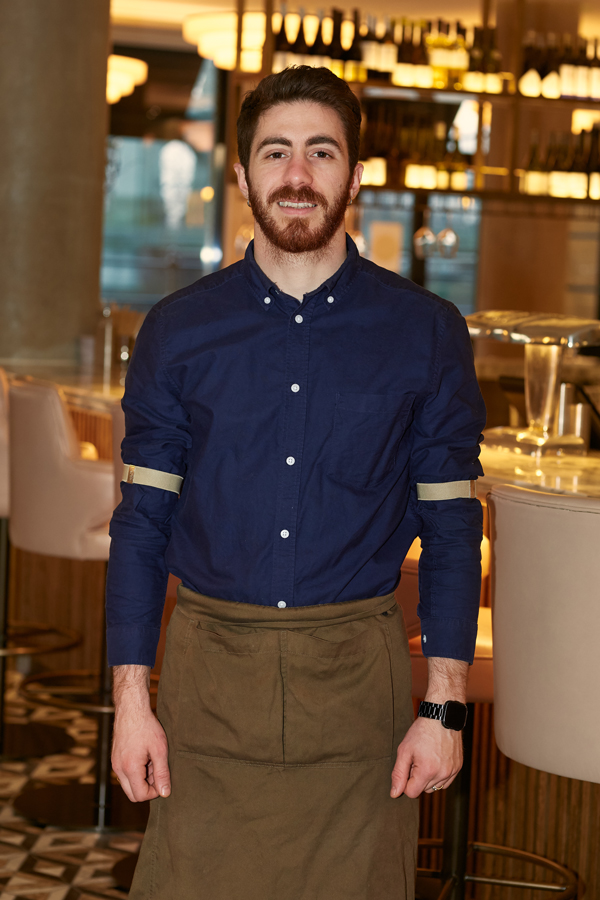 Cypriot Elias is one of Sam's Riverside's bartenders, who wear navy blue Oxford shirts with the aprons and sleeve garters we have provided. Elias is a creative mixologist , and he also cites the interaction he has with customers as his favourite aspect of the role. He loves music, art and film; he studied animation at university. His personal style features 'old-school' workwear and lots of denim.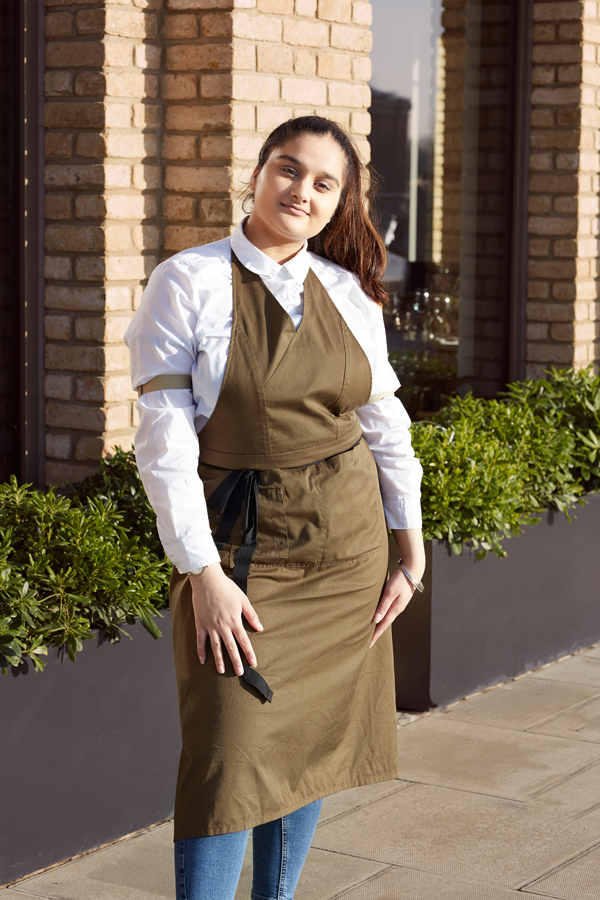 Bimanjot hails from India and is studying airport management when she's not at Sam's Riverside. She enjoys reading and walking her dog, and loves London at night, with its sunsets and cityscapes. Her favourite things about Sam's? Meeting new people, and the food, of course.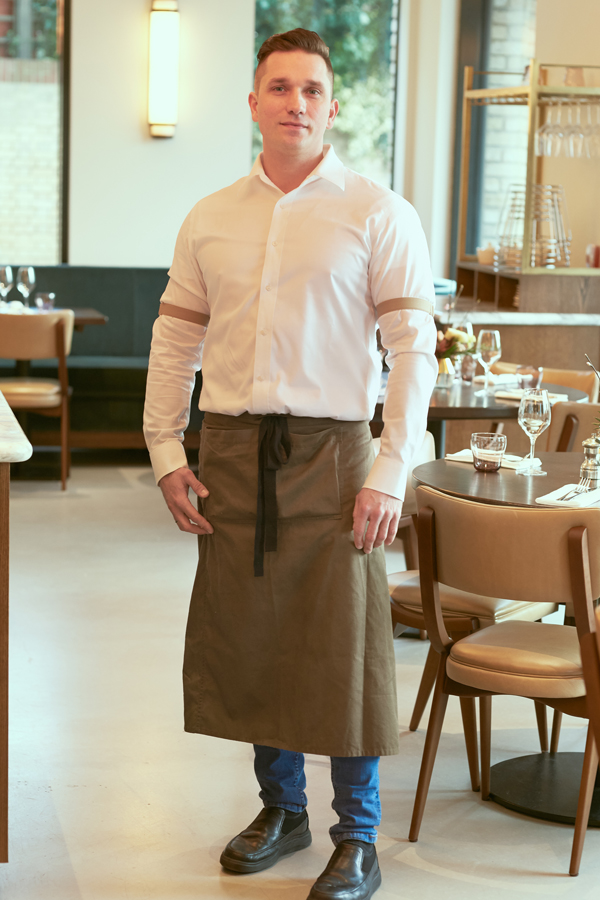 Krystian moved to the UK from Poland five years ago. He describes the team at Sam's as 'a close family' – a recurrent theme! He likes running, cycling and the gym, so you'll usually find him in sportswear, though he does have a collection of suits. His favourite London experience is the drama of Wimbledon's Centre Court.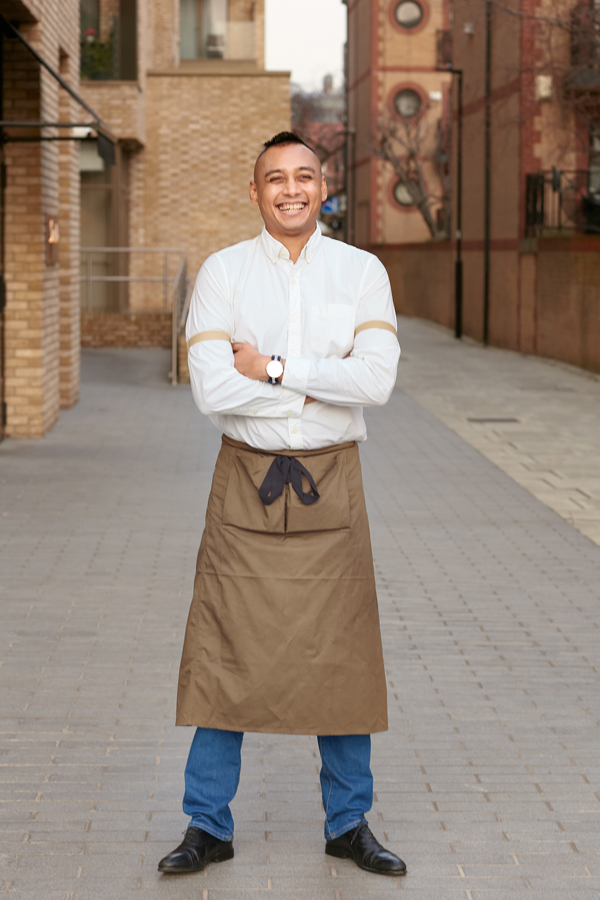 'A waiter who talks too much' is how Londoner Shanti describes himself! He's a big personality and tells us his favourite aspect of working at the restaurant is the 'family' culture that Sam and the team have created. He's a fan of yoga and meditation, and has a holistic approach to life. He loves the capital because, 'you can come from any part of the world and be yourself here.'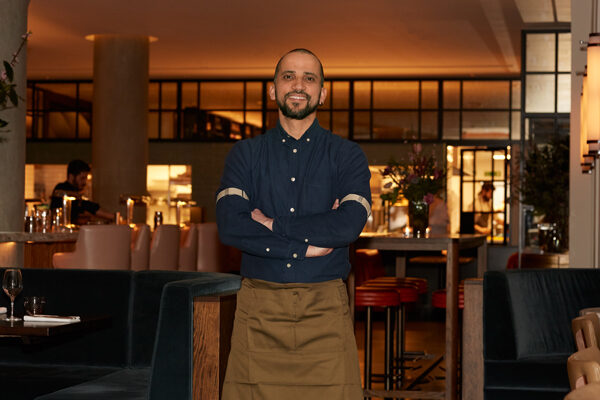 Sunil is originally from Goa in India. He's also a bartender, and previously worked with Sam at his Chiswick venue, Sam's Brasserie. At home he's a busy dad and spends all of his free time with his family. His own wardrobe is casual, with lots of denim and sportswear. When we ask him why he loves London, he says, 'because people always have a good time.' We're inclined to agree.
Portraits by Liam Hillen, photographed at Sam's Riverside in February 2020.