Are you looking for the perfect sewing kit to add to your retail offering? We have the answer. Designed to be made up at home, Field Grey's Apron Kit is a perfect fit for retailer's customers who have been inspired by the profusion of television crafting shows.
Craft shows drive retail sales of sewing kits
It feels recently as though TV schedules are dominated by home-made craft shows. Spawned by the runaway success of GBBO; shows like The Great British Sewing Bee, Kirstie Allsopp's craft franchise, and Craft It Yourself, to name a few, all reflect the growing interest in everything home-made. Sales of patterns for both sewing and knitting soared 60% in 2016 (according to Hobbycraft, the UK's largest retailer of arts and crafts). During the same period sewing machine sales climbed nearly 30%.
The Craft and Hobby Trade Association calculates that more than a million people have taken up sewing in the last three years alone. Industry estimates that at least 7.7 million people across the country now count making their own clothes as a hobby. Demand for quality sewing kits is increasing all the time, and to meet this demand we have launched the Field Grey Apron Kit.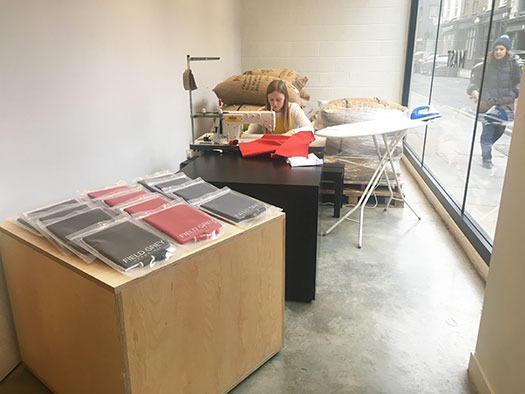 An easy-to-assemble apron for sewing at home
The new Field Grey Apron Kit includes all the ingredients your customers will need for a stylish and durable Teflon-coated cotton bib apron. As it's beautifully presented in a branded clear plastic wallet, it can be marketed as a perfect gift.
Suitable for beginners and more experienced crafters alike, the kit includes easy-to-follow instructions. Each pack contains a full-size pattern, Teflon-coated duck cotton for the body of the apron, herringbone tape for the head strap and ties, and sewing thread. The only equipment needed to assemble the kit is a pair of good scissors, some pins, and a needle or sewing machine.
Smart and practical, the aprons come in three colour ways: Red with red herringbone head strap and ties; Charcoal with brown herringbone head strap and ties; and Olive with black herringbone head strap and ties.

Field Grey Apron Kit Workshop at London Design Fair
To watch a masterclass on apron-making, join us at the internationally acclaimed London Design Fair from 21 to 24 September. From our stand M05 in Hall T3-C, our team will show you just how easy the Apron Kit is to make up.
London Design Fair is at the The Old Truman Brewery, located in the heart of East London, and is easily accessible by all forms of public transport. Direct connections to Stansted Airport can be accessed via nearby Liverpool St Station, and the venue is located just outside the Congestion Charge Zone. Trade visitors and the public are invited to attend the fair; simply click here to register.
Drop us an email today at apron@field-grey.com to discuss trade orders.