The last exhibition at the Fashion and Textile Museum celebrated the work of American fashion designer Anna Sui.
The World of Anna Sui was the first retrospective of the Detroit-born designer to be held in the UK and featured over 100 looks from the archives.
Since her first catwalk show in 1991, Sui has built a reputation as a rock star designer and her signature looks have changed the course of fashion history; a rock and roll sensibility tinged with Gothic Bohemia, drawing on pop culture across the decades.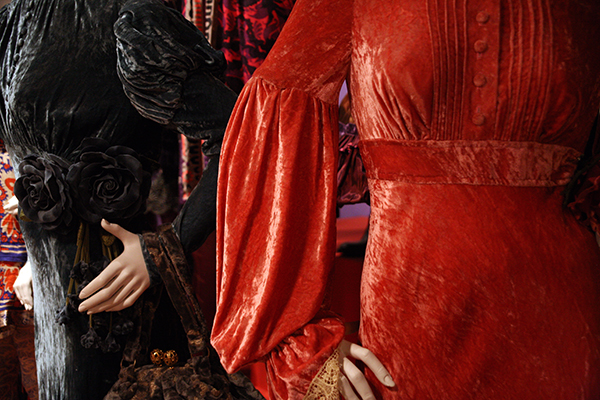 The exhibition celebrated the designer by grouping together ensembles from various collections into different categories depending on their inspiration; a quick survey of the main room soon revealed how and why she's earned her New-York-City-Fashion-Legend status. Unlike many designers, Sui has forged a career-long narrative based on key themes, and topics such as Americana, School Girls, Punk, Mods and Surfers are covered in the exhibition. It is a testament to Sui's rich body of work that, when outfits are grouped together, it's difficult to tell which era they were created in.
Collections
As with most exhibitions at the Fashion and Textile Museum, the main room was dominated by a series of tableaux that fully explore the collections. You really get a sense of Sui's principles of combining different genres that really shouldn't go together, but in Sui's world, they do. From the glamour of surf culture to the all-American girl (featuring some lovely reworks of classic preppy uniform designs), Sui has left no subculture unturned in her quest to shake up fashion.
Collaborators
The exhibition also explores the vast array of collaborators that have both influenced and worked with Sui – from fellow designers to photographers and image makers. These include the photographer Steven Meisel, a contemporary at Parsons who has shot many of Sui's campaigns; Pat McGrath and François Nars, the make-up artists who have worked with Sui on many of her catwalk shows; Garren, the legendary hair stylist; and Stephen Jones, who has created millinery with Sui over the years, many of which were on display.
Inspiration
We were particularly excited by the tableaux that showed the journey of some of Sui's most iconic garments – from research and inspiration to the final piece. See the gallery below.
The World of Anna Sui has now closed. The next exhibition celebrates the work of photographer Louise Dahl-Wolfe and opens on 20 October.