How the 40p IKEA Frakta bag became a style icon
A story that has quickly gained momentum over the past couple of weeks is the curious case of the blue IKEA Frakta bag. A staple of any visit to the Swedish homeware giant, a Frakta costs only 40p; we've all lugged our tealights and toilet brushes home in one at some point in our lives. This particular story begins when Vetements' Demna Gvasalia, creative director at Balenciaga, unveiled a very expensive homage to the carrier (below). Fans of the label went nuts (the bag has completely sold out globally) with consumers desperate to get their hands on the latest 'It' bag.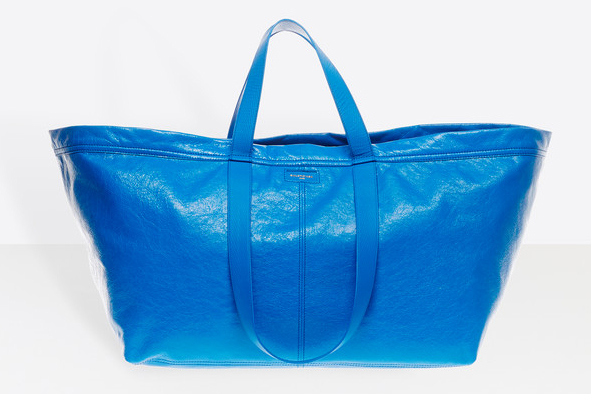 This kind of tale often ends there, but IKEA and branding agency ACNE Collective responded in the most fantastic way. Playing on the influx of counterfeit good and copycat fashion, the company released an advertisement to aid IKEA customers on how to spot if their Frakta bag was genuine, from the rustle of the bag to its ability to be cleaned.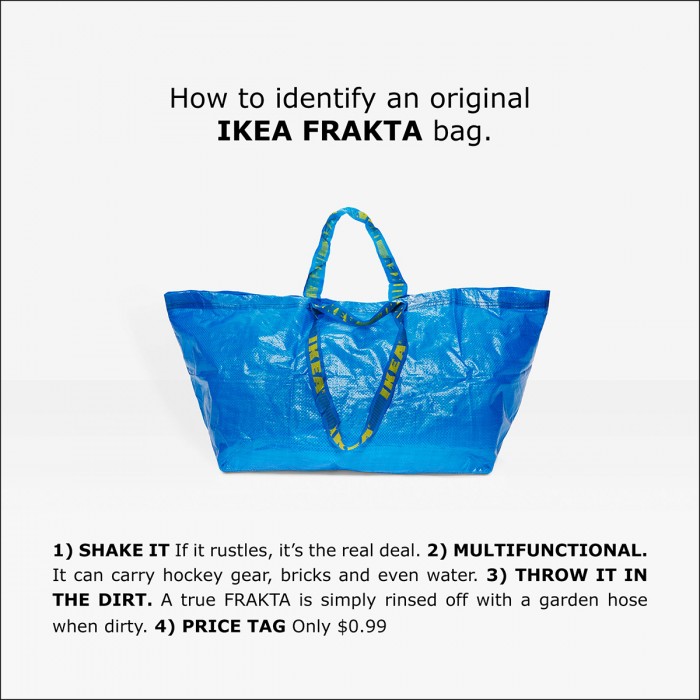 High-end designers using High Street icons is no new thing – and the cult of turning the ordinary in the extraordinary goes back centuries. In 2014 the Normcore trend quickly took hold with its anonymous approach to fashion, and this latest obsession with the Frakta bag feels like an extension of this. Now, trend-setters believe they're turning their backs on the highest echelons of high fashion by turning everyday items into must-have accessories (while still paying hefty price tags).
Pre Frakta
The art of the ordinary goes back centuries, but there are many fascinating examples of this trend over the last decade. During his time at Louis Vuitton, Marc Jacobs turned the legendary checked market stall shopper into a sought-after It bag. In 2013, Céline unveiled an anorak using the bag's familiar pattern as inspiration. Our very own Ashish reimagined high street carrier bags into extravagant sequin homages. Jeremy Scott at Moschino is the king of reinterpreting the ordinary – from the McDonald's milkshake to the Barbie mirror. Anya Hindmarch turned the humble Boots logo into high fashion footwear…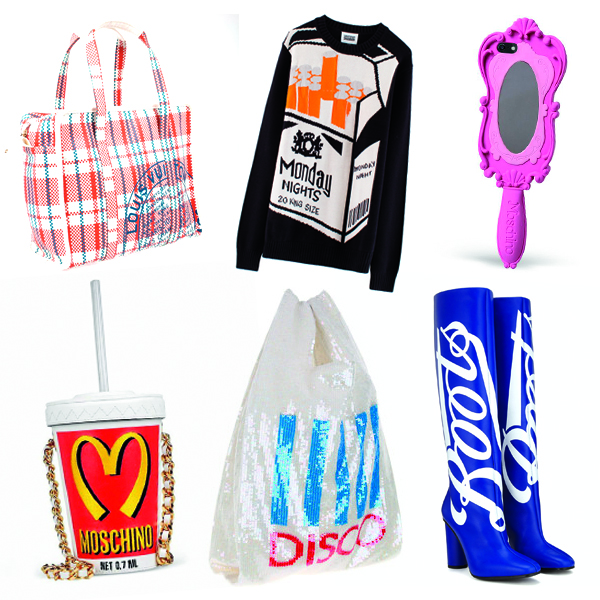 The Frakta Phenomenon
What is interesting about the Frakta phenomenon and the cult of labels like Vetements is the frenzied influence on fashion followers to translate the ephemeral effect of collections by creating pieces from everyday objects that are truly unique. The Frakta bag has been reimagined as cap, bag, dress and even thong over the last few weeks. Browsing Instagram, here are some of our favourites:
・ COCOちゃんのバッグがかわいくて真似して作った🌝(@coco_pinkprincess ) ・ ばり上手やない?爆笑 ・ ・ #IKEA#イケア#バッグ#ショルダーバッグ#手作り#diy#手芸#bluebag#bag#ikeabag#chanel#uniqlo
#TBT 2011 upcycled backpack made from Ikea bags… just because 💦
We can't wait to see which everyday item will be the next fashion phenomenon!