We spent the fashion season scouring the shows for the latest uniform inspiration and fashion trends. The rich history of uniform continually inspires fashion and, in turn, fashion regularly inspires our uniform here at Field Grey.
After an exhausting few months delivering our first Readywear projects while working with our current clients on bespoke uniform solutions, we've finally had time to look carefully at the AW18 shows. We've handpicked our favourite collections and here they are:
Prada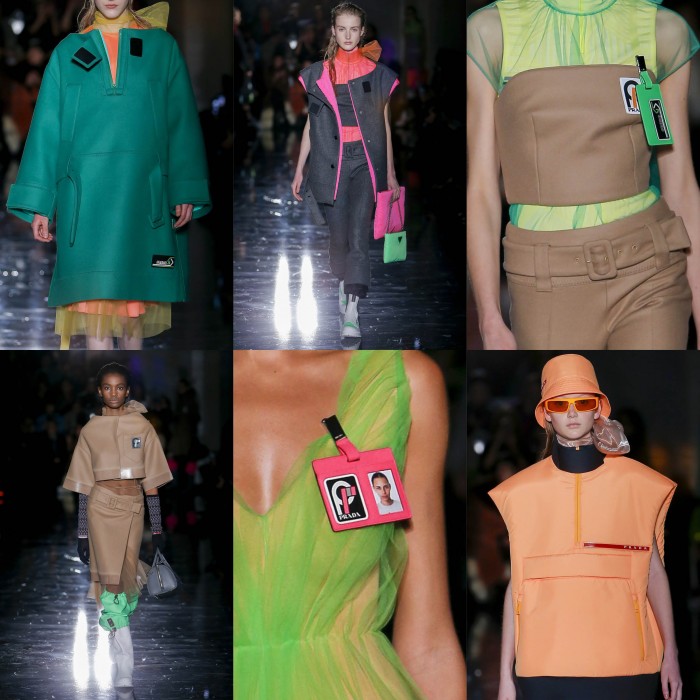 It's no surprise that designers continue to present dystopian collections filled to the brim with themes like sci-fi, armageddon and survival. Fashion has always been a source of escapism, and in a hectic, uncertain world, there's something perversely reassuring about this latest trend. At least we'll have something jazzy to wear when World War III begins. Miuccia Prada took on this challenge in an interesting way, with a continuation of some key themes she introduced last season. The identity badges returned, for example, but the clothes were very different – oversized outerwear and tailoring came in candy-like fabrics in edible pastel colours. Neon accessories completed these futuristic looks.
Calvin Klein

Raf Simons' third outing at Calvin Klein was a riotous affair, with models walking knee-deep in popcorn amongst scaffolding adorned with artwork by his most common collaborator, Sterling Ruby. Many of these looks featured hi-vis orange and silver stripes, most often seen on builders' yards, and it was this that grabbed our attention. Themes of protection and safety, common in many designers' collections this season, prevailed. There were literal translations of workwear in bright orange jumpsuits, while some references were more subtle, such as a discreet reflective line through an ambitious fur coat.
Dolce & Gabbana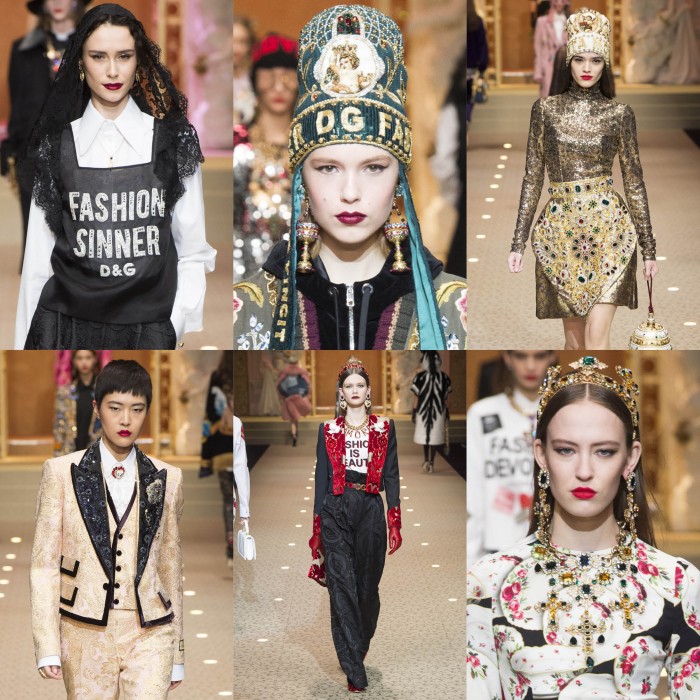 If anyone is likely to reimagine the uniform of the cloth, it's going to be Dolce & Gabbana. Models were dressed like icons with digitally-printed dresses featuring china sets; elaborate robes like chasubles, profane logo t-shirts, ghostly mantillas; even beanie hats shaped like bishops' mitres. There were some other uniform nods, too: extravagant jackets a bit like the traje de luces embellished with millions of crystals, tuxedo cuts in garish fabrics and an unorthodox Western cowboy thrown in for good measure.
Alexander Wang

Alexander Wang was no stranger to sci-fi either; he continued his domination of the colour black with a series of dominatrices that looked like they had stepped from the set of The Matrix. Jumpsuits, long coats and and strctured jackets had hints of masculine tailoring and were constructed in luxury fabrics such as leather, wool and lurex. Looks were completed with shallow shades.
Giorgio Armani

Armani's collection this season really got our pulses racing. It began with hints of 1980s office workwear – the kind of outfits you'd expect from Anna Fox's phenomenal Work Stations series from the 1980s. Then, the collection took an interesting turn, giving nods to Yves Saint Laurent's Russian-themed Haute Couture from the 1970s. Glamorous evening wear was accessorised with (hopefully faux) fur ushanka-style hats and jackets with embellished sleeves. Meanwhile, the menswear featured suits with utility pockets in a range of fabrics.
Jeremy Scott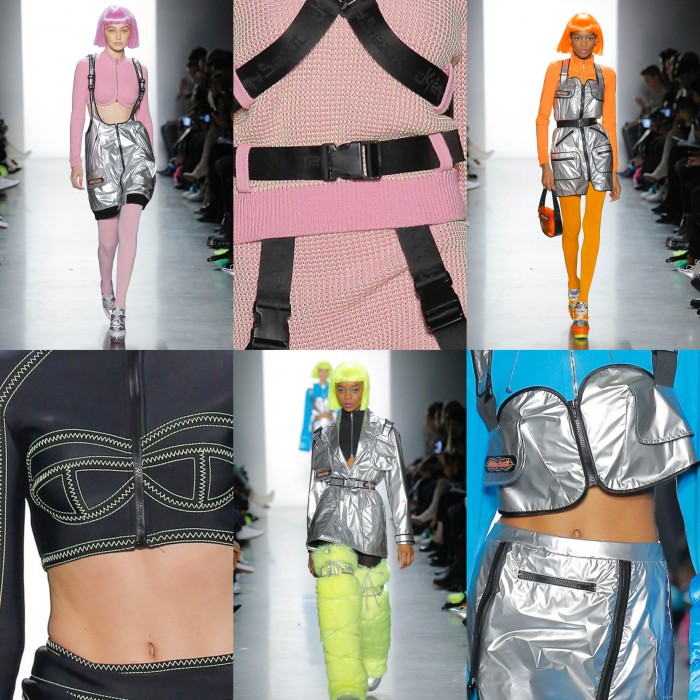 Jeremy Scott managed to throw all these themes together in a coherent collection where he sought inspiration from the science fiction movies of the 1960s, when the genre flaunted scantily-clad world-saving women like Jane Fonda in Barbarella. This was married with more contemporary futuristic films like the Fifth Element. The results were shiny playsuits with utilitarian details, Trompe-l'œil embroidery and snap-fit, quick-release buckles.
Pucci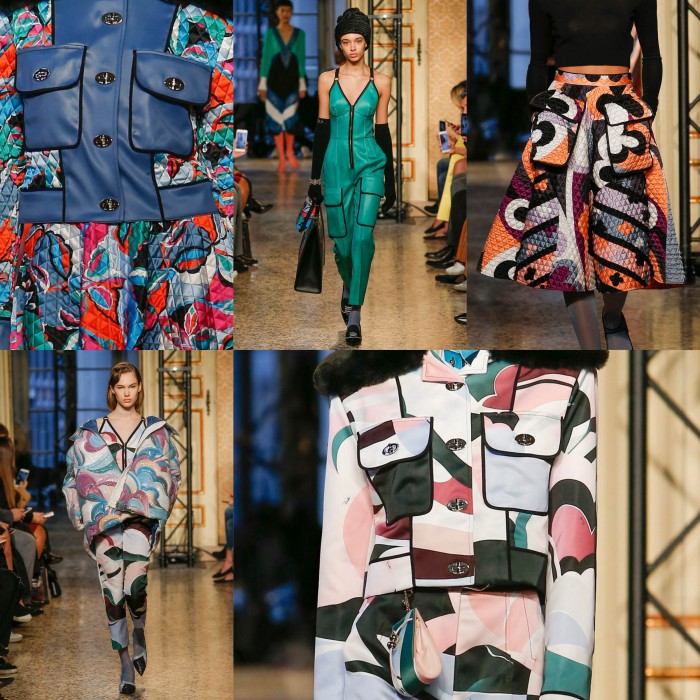 Fab to see the good ol' utility pocket given the psychadellic treatment at Pucci. Jumpsuits, waistcoats, dresses and trousers, in Pucci's inimitable vibrant prints, featured pockets with oversized buttons. What's not to love?
Phillip Plein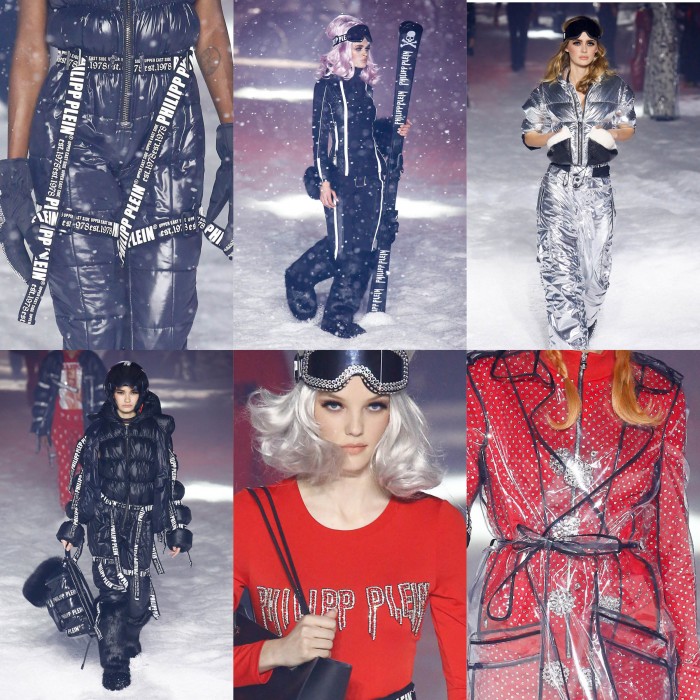 To Phillip Plein, where the skier's uniform had a facelift. Fitted bodies, salopettes and oversized puffer jackets were presented in Plein's signature garish colour ways – this time in tin foil silver, blue and red. These were accessorised with branded ski accessories and transparent Macs.
Moschino

To Moschino, Jeremy Scott's other baby, where style icon Jackie Kennedy Onassis became the designer's supposed muse. Scott's garish hues were ever-present, this time on two-piece suits and First Lady coats, the colours broken up by bright silver zips with large circular pulls. Each model sported a Jackie flicked bob and carried vibrant accessories synonymous with Scott's era of Moschino.
Gucci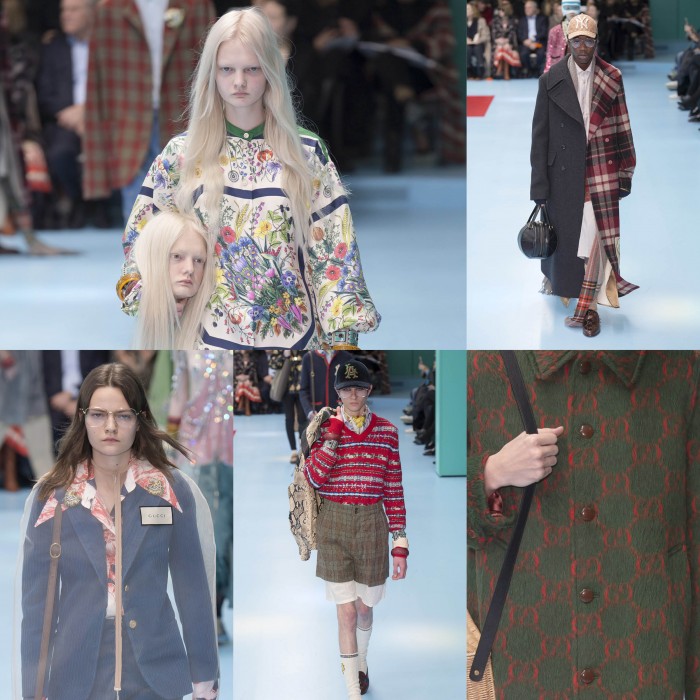 This AW18 collection from Gucci will surely be remembered for those waxwork heads, where models carried replica faces in a ghostly fashion. This gimmick courted controversy, deemed unnecessary for a powerhouse brand like Gucci, but the clothes had the goods to back up the drama. Ethereal floral prints appeared on dresses, and shirts with exaggerated collars; jackets had contrasting sides, and the iconic Gucci interlocking G motif was put to good use, on overcoats and shirts.