As always, and amongst other things, we spent 'fashion month' scouring the shows for the latest uniform inspiration and fashion trends. The history of uniform has long inspired fashion and, in turn, fashion regularly inspires our uniform here at Field Grey; sometimes in the cuts, sometimes in the details, but it is always prevalent.
After an exhausting and amazing couple of months launching Readywear and debuting at the London Design Fair, we've finally had time to look carefully at the SS18 shows, from New York to Milan and from London to Paris. We've handpicked some of our favourite collections, spotting key uniform details and highlighting trends we're keeping an eye on. Here they are:
Pinafores at Prada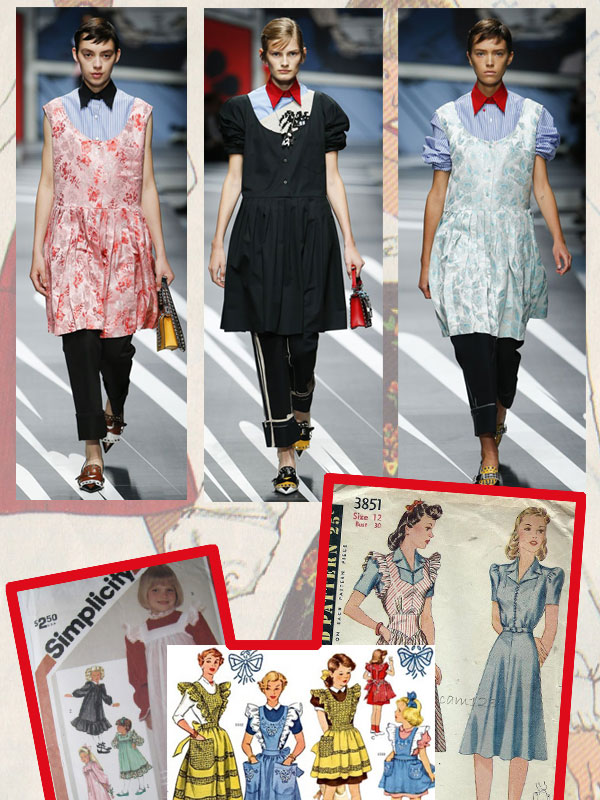 We were thrilled to see Miuccia Prada's nod to pinafore cuts at this year's show. Oversized pinafore dresses, that looked like they were about to fall off, appeared in a variety of colourful brocades.
Workwear Reimagined at Kenzo Memento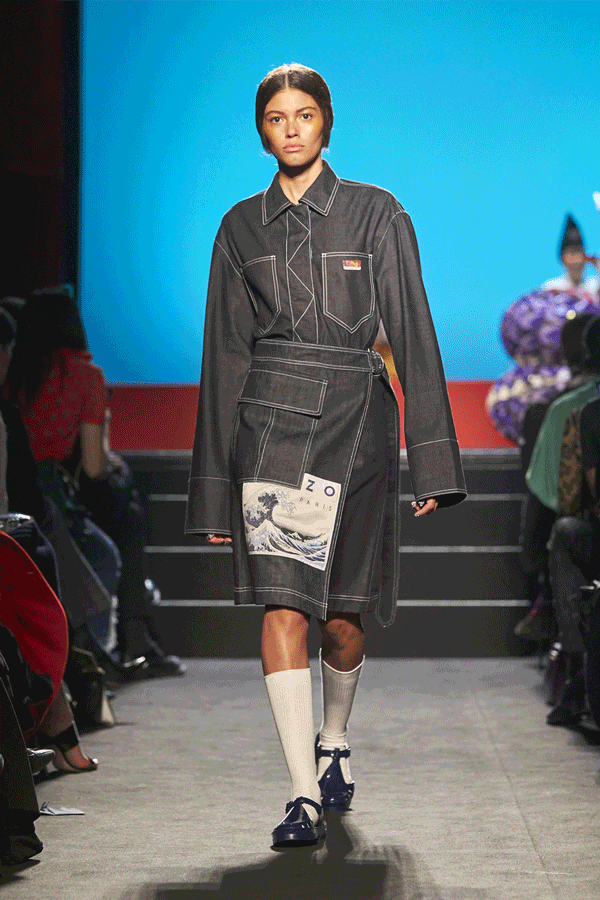 To a decidedly more utilitarian show at Kenzo Memento, where there were engineered denim garments galore. From wrap dresses to kimono style frocks, pieces were constructed in heavy, raw denim in a variety of colours, complete with contrasting seams.
Temperley's Riviera Belles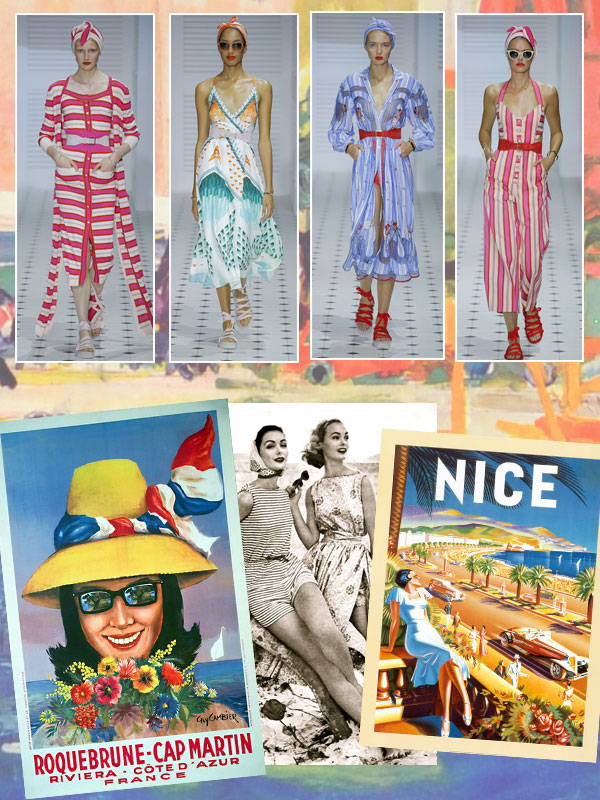 To Temperley London, where the classic aesthetic of the French Riviera provided inspiration for this season's show. Styled with headscarves and vintage sunglasses frames, models wore elegant striped ensembles in a variety of playful colours that reminded us of the paintings of the era. Glamour at its best.
Airline Style at Alessandra Rich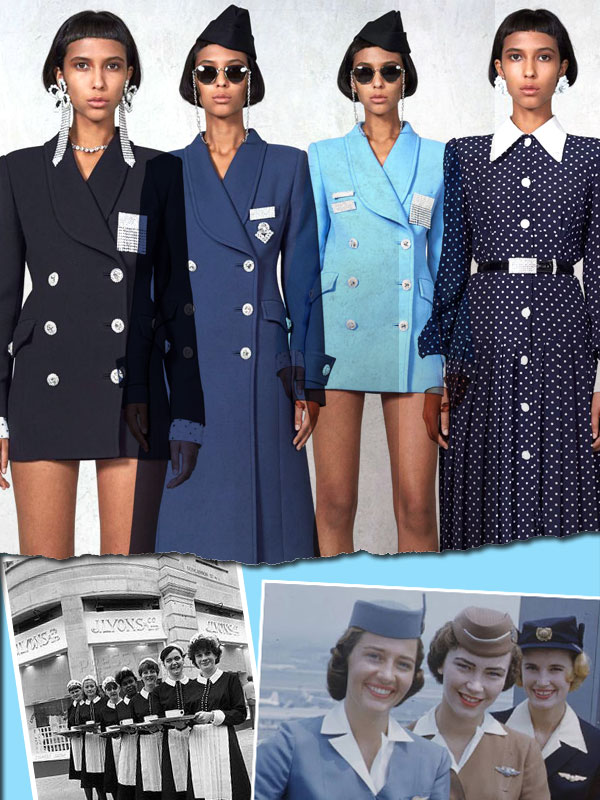 Alessandra Rich paid homage to airline style and military uniforms this season with a dazzling range of androgynous looks. Models wore double-breasted jackets in rich textiles, reminiscent of military uniforms. Jackets were also embellished with name-tag like brooches and patches. We love the hostess hats and the elongated white collars worn with some outfits, which remind us of the classic 'Nippy' waitress collar.
Utility meets Uniform at Joseph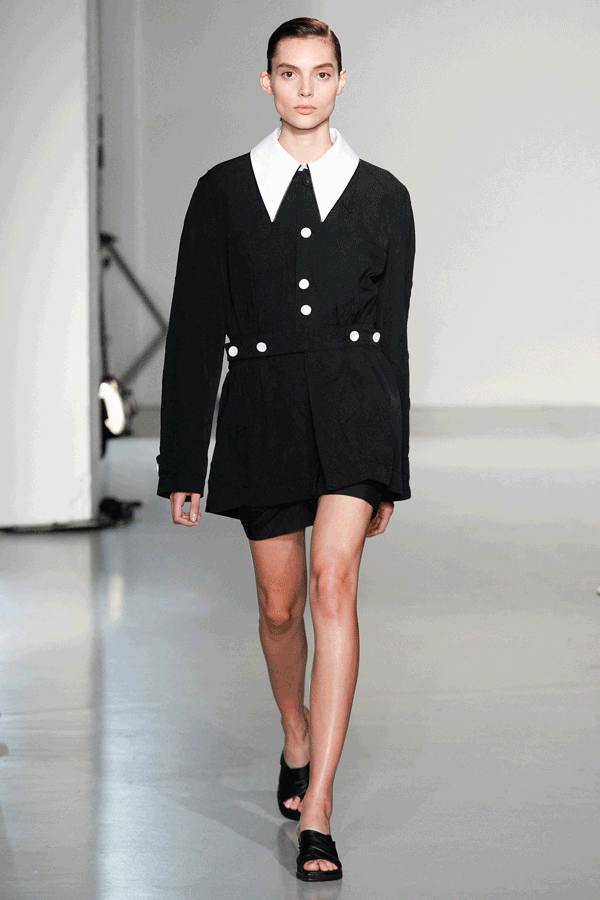 We adored Joseph's show at London Fashion Week this season for its mash up of utilitarian and uniform details. Long khaki dresses with utility pockets were the main flavour, peppered with all black outfits with contrasting white collars – again evoking images of the classic waitress uniform.
Safari Style at Atlein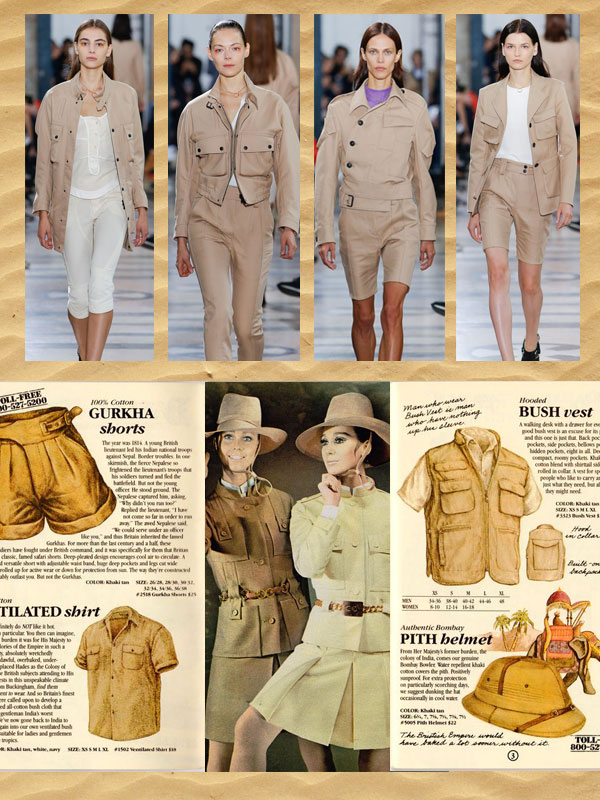 You can't beat a collection inspired by classic safari looks – and this season Atlein bought this to the table. It was safari for the modern woman, with jackets cut in a variety of ways and to a variety of lengths, but all with a selection of utility pockets. It reminded us of Dior's safari jackets from the 1960s, along with the original uniform of desert explorers.
Uniform Galore at Thom Browne

Finally, Thom Browne stayed true to form with a variety of uniform nods. From university stripes to cricket-themed sweaters and nautical influences, Browne's collection carried a whole host of workwear details, blended together dramatically in a way only Browne can.
Deconstructed Tailoring at Céline

We loved the aesthetic at Céline this season: a combination of masculine tailoring, cool pastel colours and utility details. Garments were joined together haphazardly, creating futuristic workwear pieces.
Versace Pays Tribute to Versace

At Field Grey we love when designers reference their own archives, and nobody has done it quite like Donatella. In a upbeat, celebratory show, Donatella paid tribute to her brother Gianni, founder of fashion house Versace, twenty years after he was tragically murdered. The show was a whistle-stop tour of the label's history through some of its most iconic pieces, reimagined for 2017. She told reporters that it had taken her this long to find the courage to explore the archives. Models appeared in a vibrant range of iconic prints designed by Gianni – the yellow and gold ones with Baroque influences mixed with leopard print and animal scales. There were also tributes to his all leather looks; all-black outfits with flashes of Versace yellow. A fantastic tribute to one of fashion's greatest talents.