Field Grey were enlisted by the Honest Burger's co-founder to create a bespoke chef's jacket, embroidered with the motto 'Who Cares Wins' for the company's longest serving chefs. Our Creative Director, Janice, sat down with Tom to talk about the origins and impact of the project, the future of farming and the shared environmental challenges of the food and textile industries.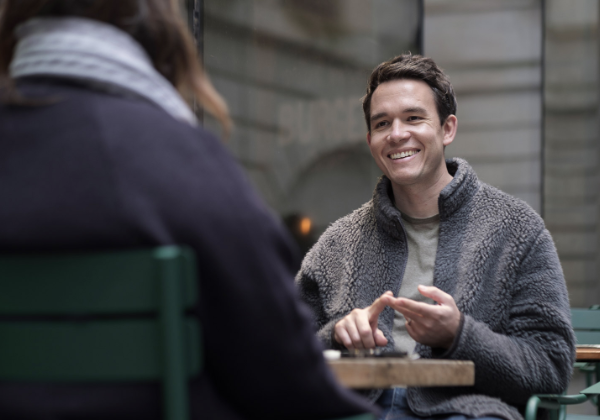 JT: What inspired you to have the green jacket programme?
TB: It came from wanting to reward our guys, we wanted to do something tangible. I remember reading an article about McDonalds, they'd sewed people's names into their uniform instead of giving them a badge. And the impact was that it had a permanency – that's yours, and when you leave it'll still be yours. It shows a uniform can be really powerful. It's like a soldier putting on their uniform, like you're going into battle, and sometimes it feels that way when you work in a kitchen. So that's where the idea came from, and then you guys swooped in and made it a reality!
JT: And you took the guys out…
TB: I bought some great steak, we had a big feast and gave the first set of green jackets to everyone. The 'Who Cares Wins' motto is a riff on the SAS, who've got 'Who Dares Wins'.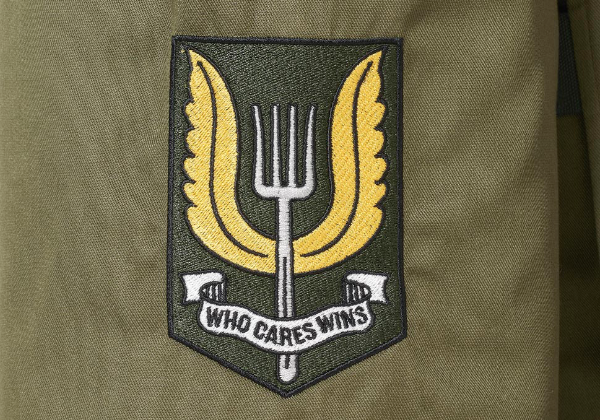 JT: I think it's brilliant, and the fork is brilliant.
TB: Yeah, we've got a knife and fork instead of the dagger. It's for the best in our business, you earn it. You don't come in and work for 6 weeks and get a green jacket. This is for people that put blood sweat and tears in, and want to take themselves to the next level within the company.
JT: And it's been enthusiastically received?
TB: They love it, and it's nice to see them in use – it starts to develop a brand within our kitchen, which we've not had before.
JT: That's a great way of putting it. There's so much about branding when it comes to celebrity chefs, but not so much the actual community of chefs.
TB: Well, when you see a celebrity chef, they might have a £250 leather apron on or tailored chef whites ­– and I'm all for that! I think it should be treated as a skilled craft. For our guys there's a lot of skill involved, there's passion, pride, and we want them to feel like they're putting on a uniform that encapsulates those things.
JT: I think it's that continuity, that's what the best brands do.
TB: Front of house are typically closer to the brand, the kitchen is quite a sterile environment – the lighting, the furnishings, most kitchens are just function. So to try and get a brand into a kitchen is hard, but one of the touch points is definitely uniform.
JT: And the motto, 'Who Cares Wins', are you going to carry that throughout the brand elsewhere?
TB: We are, I don't think it'll be featured heavily though, as we wouldn't want to dilute it. It's got to be something you earn.
JT: So, the jackets were made in London, which I'm really proud of – do you see a push for more local sourcing at Honest Burger?
TB: For this project we were quite strict on that, and it's important that we were, because this mindset of going abroad and getting it cheaper is the reason the world is in such a mess. For us the importance of miles in food is a really big one, and we've been a proud supporter of keeping them as low as possible. It should be part of every part of the business. If you want to be more ethical, you shouldn't be sourcing things from all over the world.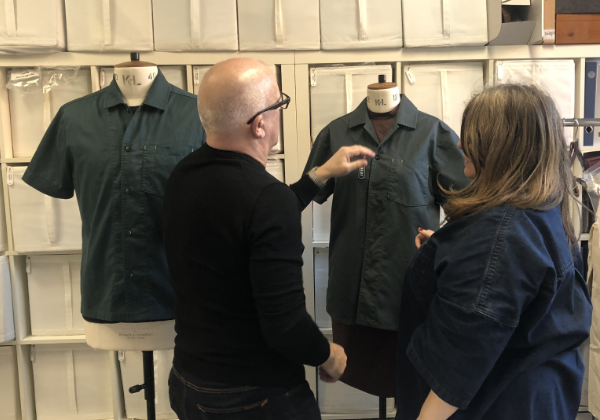 JT: Absolutely, and also – reprocessing, even if it's old t-shirts, there are opportunities to do that. We have a struggle in the textile industry to be more sustainable, but I'd like to get your thoughts on how the food industry is improving in terms of its sustainability?
TB: I think this is really interesting, because loosely speaking you've got travel, food and fashion as the big contenders when it comes to the largest emissions. And food gets the most slack. Everyone is experiencing food, everyone is experiencing fashion as well, we have to. Burying your head in the sand isn't an option anymore, it's becoming a part of our everyday lives. If we don't find a solution, what's left for us? How much damage can one population do in 70 years? Is it irreversible? I hope not. Every business I speak to is working on a sustainability agenda, which is good.
JT: So, what's yours? What things are you building on? You can't tackle everything at once.
TB: What you can do is tackle your directs. That would be my advice to any business out there, stop offsetting, it's not effective. If you want to really affect change, you have to address your direct emissions – for us it's our food, for you it might be your fabric…
JT: It's fabric and manufacture, where that's done, and how you design something. For an example, I now know that brass eyelets use more energy in manufacture than silver eyelets – so what can we do on that?
TB: If you're really serious about making change, go for the biggest, scariest, most terrifying thing that you can. For us it's beef. Simple. If we want to address climate change and sustainability within a business that sells beef, there's no other place to start. So that's what we've done and it's what I'm very proud to say we've made a huge amount of progress on. We've got a trial underway at the moment of something called Honest Farming, which is regeneratively farmed beef. Old school methods of putting soil health first – which suppresses carbon, promotes biodiversity, animal health and quality of flavour in the product. It gives our farmers peace of mind and a bit of a pat on the back, which they need.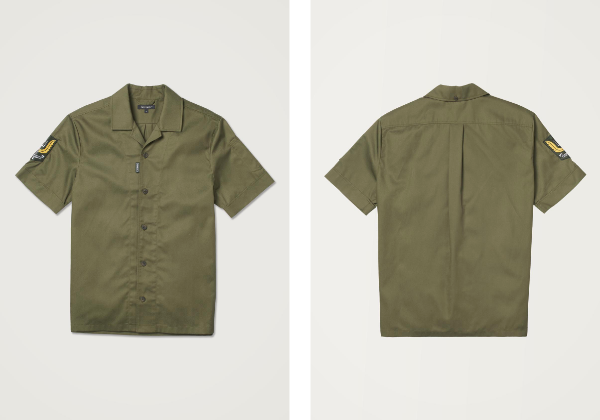 JT: Do you know all of the farms where you procure your beef?
TB: Well, currently we've got a three-site trial, with two farmers that are practicing this. Those two farmers will get us to about ten sites. We'll grow that farming network to about fifteen farmers, and they'll be supplying the entire company, and our entire beef supply chain.
JT: That's really exciting!
TB: And accessible. When you look at the big guys, who are sourcing from 20,000 farmers and they say "we know every one of them!" it's like no you don't, no-one does.
JT: It's the traceability factor as well. Like cotton, it can be very murky.
TB: Do you know any of the farmers that produce the cotton that you use?
JT: Well, we haven't gone that far back. Cotton's a minefield, but there are other elements we can look at. Such as what we're choosing to use and where we're choosing to source and manufacture. In comparison to some big chains, we're really only moving things from Europe to Europe or within the UK. We've just had some socks made in the UK for Readywear by a company called Peper Harow in Sussex.
TB: I'd really like to think that COVID has helped us to realise that we're an island, and we need to be more self-sufficient. Could be one of the few good things that's come out of this pandemic, that we're able to look internally, closer to home.
JT: So, I've heard about a few things that are next in the pipeline for Honest Burger, have you got any other exciting plans?
TB: Regenerative farming is the big one. We don't have a sustainability department, it's just me. I want to set up the most well-respected beef supply chain on the planet, and I think I've got the right people to help me do that. And I've met some farmers who have really inspired me to do more. I feel like that's the answer, but it's a very complicated problem with an equally complicated solution. Farming is going to be part of humanity forever, we're a long way from lab-grown anything. In our lifetimes anyway, farming is the answer. We've got to learn to work with nature, and it's amazing how technology can promote nature as well. There are little things too, we're about to get rid of our current loo roll and replace it with a recycled brown roll. And getting rid of our current napkins that are cellophane wrapped, replacing them with some that are paper wrapped. So we're making little wins.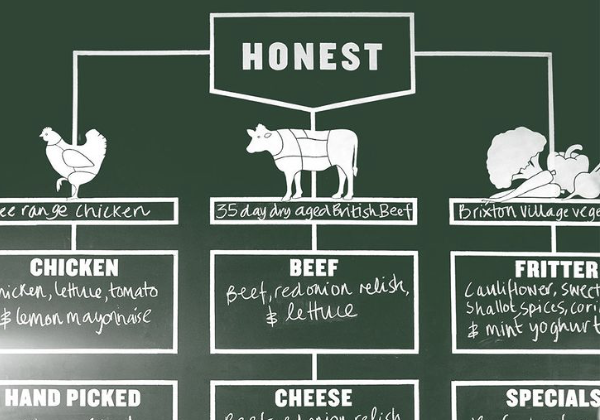 JT: They add up!
TB: I looked at a big chicken brand, who did a pie chart of their carbon emissions. About 98% of the chart was one colour, and that one colour was their chicken. That's the situation for all of us. What's the thing you use the most? Yours is fabric, ours is food.
JT: Have you read English Pastoral?
TB: Yes! By James Rebanks, emotional, isn't it?
JT: It is really emotional. I grew up in Norfolk, in the countryside, so farming was all around me. It was just a natural part of life.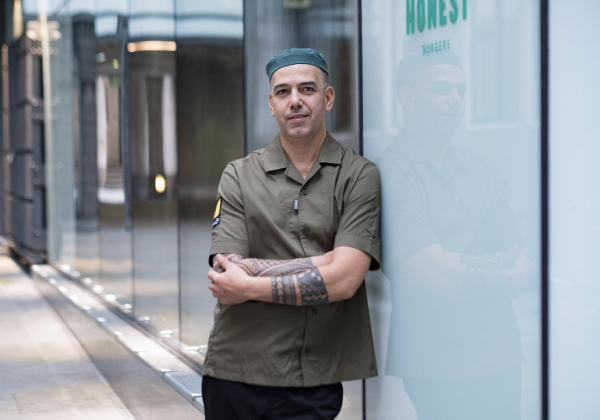 Portraits shot by Peter Searle.